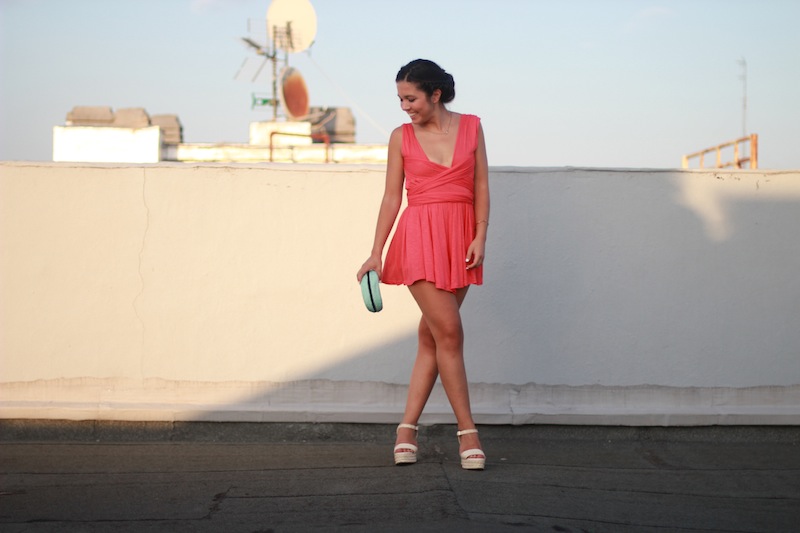 Como dice la famosa canción de Sabina, que el fin del mundo te pille bailando. Y eso es lo que hago o intento hacer yo cada día de mi vida.
Estas fotos las hice en la azotea de casa de unos amigos la semana pasada. Por la tarde fuimos al Hotel Wellington de Madrid a tomar unos mojitos mientras nos peinaban, lo pudisteis ver en Instagram (dostaconesparamiarmario) al momento, fue  un día genial gracias a #mojitoplatimun y después haciendo estas fotos con unas vistas increíbles de Madrid.
Elegí mi nuevo mono, sabéis que es una prenda que adoro, de Lookbookstore en tono coral y espalda descubierta. Si os gusta al final del post tenéis el enlace y además estáis de suerte porque está rebajado y es súper barato. Las tiras del pecho las podemos colocar de múltiples formas, como visteis el otro día aquí y conseguir que tenga tiras cruzadas o con escote trasero y sin espalda. La combinación de tonos rosas y azules es mi preferida, así que no podía faltar mi clutch de Como el Aire en tu Cintura, sin duda el bolsito perfecto para bodas, eventos o cualquier día que sea un poco especial. Estas sandalias de rafia trenzada se han convertido en mi calzado estrella del verano, además de bonito es súper cómodo y yo no puedo estar más encantada con mis cuñas.
Un beso enorme y espero que vuestra semana esté yendo genial.
As the famous song goes " that the end of the world will find you dancing" and I try to do every day in my life.
This photos were taken on the rooftop of a friends house. That day we went to the Wellington Hotel to drink mojitos while a girl combed our hair. It was a fantastic day which you could see at the moment on Instagram (dostaconesparamiarmario). 
I chose my new and wonderful playsuit, I love the color and the backless. If you like it you can find the link at the end of the post, and you are lucky because it´s on sale and it´s cheap. This color combination is my favorite, blue and pink, I can't love it more. It´s perfect for a special day. My sandals are really comfortable and I wear it a lot!
xxxx and I hope you are having a great week!
Vestido / Dress: LookBookStore
Clutch: Como el Aire en tu Cintura
Sandalias / Sandals: Pull&Bear