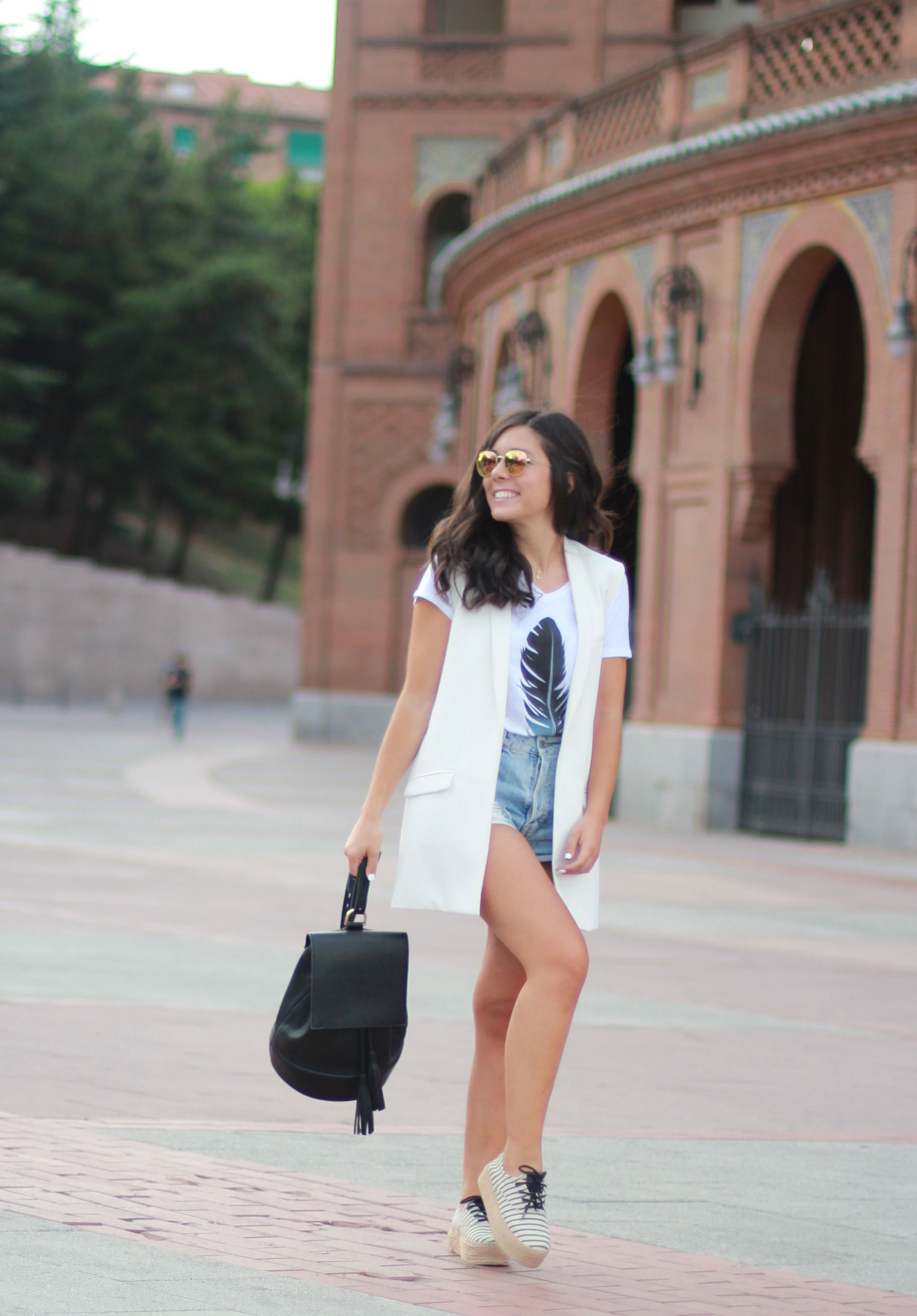 Buenos días a todos. ¿Qué tal el fin de semana? El mío sin descanso, para no variar. Estamos a lunes y espero que esta semana venga cargada para todos de buenas noticias.
El look de hoy se puede copiar fácilmente. Los shorts vaqueros todas los tenemos en el armario, estos quedan bien con prendas básicas y planos o con ropa más arreglada y tacones. Yo los combiné con mi nuevo calzado de Pull&Bear que no puede ser más cómodo. La camiseta es de Cupid Killer, una tienda multimarca de Madrid, situada en la Calle Infantas 16 donde podréis encontrar prendas de Eleven Paris, La Condesa, Lee…
El toque final del look lo conseguí gracias a los complementos, mis nuevas gafas de sol de Wolfnoir que me encantan y últimamente no me las quito así que las volveréis a ver por aquí. Si no conocéis esta marca os recomiendo que visitéis la web.
Un beso enorme y que tengáis un día genial.
Good morning! How has been your weekend? I hope really well and you have begun a perfect week.
Today´s post is about basics and you can copy it easily. Everybody has shorts like this into the wardrobe. I love my new shoes and my T-shirt which I bought it from a Madrid´s store, Cupid Killer, it´s a multi-label store, there you can find more brands like Eleven Paris, La Condesa, Le… My sunglasses are fantastic and fashionable, I wear it everyday! I hope you like it!
xxxxx and have a perfect day!
Shorts: Pull & Bear (otra temporada / old)
Gafas / Sunglasses: Wolfnoir
Chaleco / Vest: Zara (otra temporada / old)
Camiseta / Shirt: Cupid Killer
Calzado / Shoes: Pull & Bear
Colgante / Necklace: The Girl and The Apple
Mochila / Bag: Zara