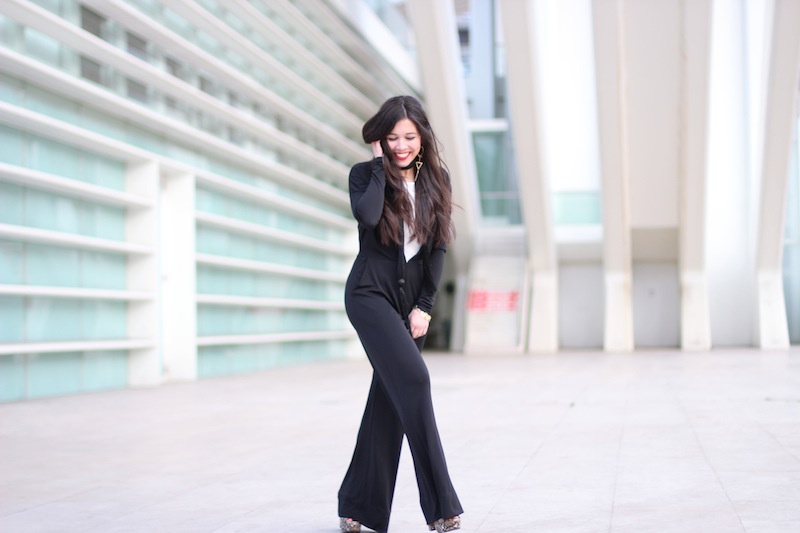 ¡Feliz lunes a todos! ¿Qué tal estáis?
Estas fotos son de hace unos días en Oviedo. Ya os había adelantado algo por Instagram y aquí tenéis el look completo. Ahora podéis encontrar este mono largo en blanco y negro y de manga larga rebajado. Es perfecto para un día de fiesta o para la oficina, con unas sandalias, con tacones, con botas… Me gusta mucho la tendencia de los 70´s de los pantalones campana pero aún no me he lanzado a comprarme los vaqueros que han empezado y van a seguir siendo tendencia. Por el contrario, no he podido resistirme a este mono largo de Zara. ¿Os gusta? Completé el look con unas de mis sandalias preferidas con el estampado de serpiente que está tan de moda, últimamente lo veo en todos los accesorios y complementos. ¿Qué os parece?
Un beso enorme y qué empecéis genial la semana.
Happy Monday! How are you?
This photos were taken some days ago, when I was in my city, Oviedo. I had shown you a preview on Instagram, now you can see the outfit on my fashion blog. Do you like my jumpsuit? This black and white Zara jumpsuit is on sale now! It´s perfect for a party or for a working day, you can wear it with sandals, boots, heels… I love 70´s style and flare trousers that are so fashionable. I haven´t bought jeans yet, however I have this flare jumpsuit. I wore my snake print sandals. Do you like it?
xxxxx and have a perfect week!

READ MORE