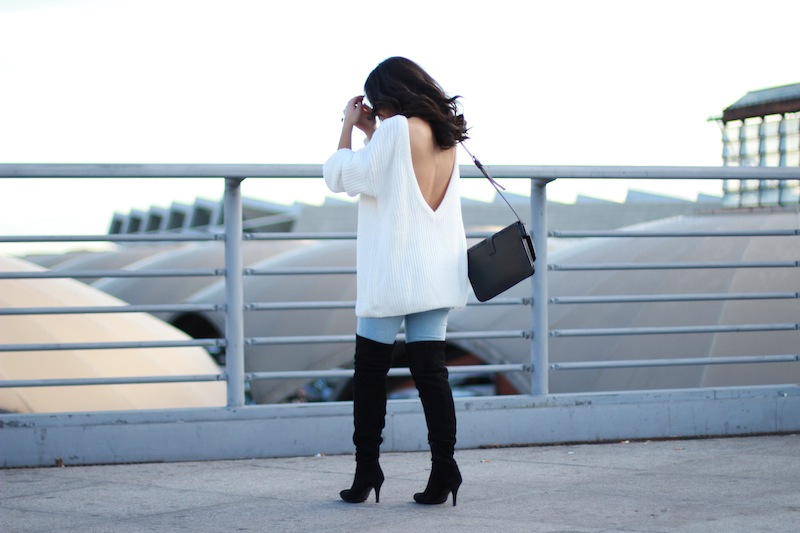 Buenos días a todos. Los que me conocéis sabéis que me encantan los escotes en la espalda, este jersey me encantó nada más verlo, tanto por el color ya que el blanco es mi color favorito para la ropa, como por la forma, me encantan las prendas anchas y sueltas y si a eso añadimos el escotazo que tiene puedo decir que se ha convertido en una de las prendas preferidas de mi armario. Está genial de precio, lo tenéis aquí.
Llevo pendientes de Crème, me encanta su nueva colección y hasta el día 31 de este mes tenéis un 20% de descuento en cualquiera de los accesorios de su web con el código "2TACONESXMAS". ¿A qué estáis esperando? Yo seguro que cojo algo.
Un besazo enorme a todos y gracias por leerme.
Good morning!!! As you know I love backless dresses, tops, sweaters… so when I saw this sweater I fell in love! This color is my favorite and I love big clothes, so now this sweater is one go my favorite wardrobe clothes. You can find it here.
My Crème earrings are fantastic, I love this new collection and until 31 December there is 20% discount with the code "2TACONESXMAS". I´m sure I´ll buy something.
xxxx and have a great day!
Jersey / Sweater: LookBookStore
Botas / Boots: Zara (otra temporada/old) similar AQUÍ/HERE
Pendientes / Earrings: Crème (20% de descuento con el código: "2TACONESXMAS"