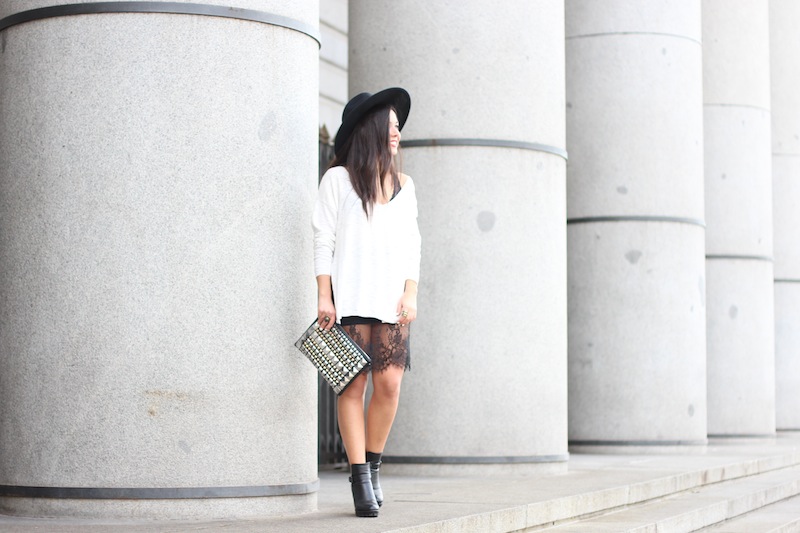 SHOP THE POST:
[show_shopthepost_widget id="1206284"]
Los que me seguís en las redes sociales sabéis que he trabajado en la revista Elle y he estudiado el curso Superior Universitario de Marketing de Moda y Lujo de la revista Elle y la Universidad Complutense de Madrid. El viernes pasado Asos fue uno de los colaboradores que inauguró el Curso de Marketing Digital y desde la redacción me llamaron para invitarme, para que los acompañase y moviese a las chicas para participar en un sorteo que realizarían en las redes sociales. No me lo podía perder, los estudiantes se lo pasaron genial y las fotos que se hicieron quedaron muy bonitas. Es una gran satisfacción que gente tan profesional te tenga en cuenta para estas cosas. Tengo la gran suerte de haberme cruzado con ellos en mi vida y no tengo palabras para describir lo encantadores que son. Al terminar me llevé este sombrero que como veis no he tardado en estrenar.
Ahora mismo veo mi look y me da frío, las temperaturas han bajado muchísimo desde este fin de semana por lo que hoy sería imposible ir en piernas pero las fotos están hechas y no podía quedarme sin enseñároslo.
Llevaba unas semanas indecisa, no sabía si comparme la falda que llevo puesta por si iba a ser la típica compra que te pones una vez o, en cambio, no me la iba a quitar, así que haciendo caso a mi amiga Sara me la compré y tenía razón, ha pasado lo segundo. Creo que la moda consiste en divertirse probando nuevos conjuntos, y aunque todas sabemos que con unos vaqueros y una camisa básica vamos bien, hay días en los que te apetece probar nuevas combinaciones, arriesgar y mezclar. El encaje es una de mis perdiciones, creo que junto con las lentejuelas y el cuero son mis tejidos preferidos. Esta falda tiene ese detalle que la hace especial y dependiendo de la prenda que llevemos en la parte superior y de los zapatos podemos conseguir un look más urbano o uno más lady. La combiné con un maxi jersey en tono crudo que es de las prendas que más me pongo, el tacto es genial, es súper suave y se puede combinar de infinidad de formas, además es un color que pega con todo y es uno de mis básicos de armario (al final del post os dejo el link, quedan las últimas unidades, se está agotando). Y como el look iba de encaje no podía faltar el sujetador negro que se dejaba asomar sumando un toque sexy al conjunto.
El bolso me gusta muchísimo, las tachuelas plateadas y doradas le dan ese punto rockero que tanto me gusta. Puede ser de mano o lo podemos colgar al hombro con una cadena plateada que lleva incluida, es de JustFab, al igual que los botines de tacón negros.
Espero que os guste el post, yo me voy volando a las clases de alemán que empiezo hoy, ya os iré contando qué tal.

If you follow me social networks you know that I have worked at Elle magazine and I have studied the University Course about fashionable Marketing and Luxury of the Elle Magazine and the Madrid University. Last Friday,Asos was one of the collaborators who inaugurated the Digital Marketing Course and they called me to invite me to the class, they were going to have a contest, and they wanted  everyone to share in growth, so I spoke with them, I wore Asos clothes and I took a photo. It is a great satisfaction that so professional people you bear in mind for these things. I,m lucky to have met them in my life and don´t have words to describe how wonderful they are. 
Today is a cold Day in Madrid. I love this outfit but is impossible to wear it now.
I dind´t know if I wanted this skirt because I didn´t know if I would wear it. Finally I bought it and I´m so glad because I think it´s perfect for the workday and for a special occasion. The lace is so cool, like leather or sequins which are my favorite furnitures. The skirt is so special and I wore it with my black lace bra. The sweater is a terrific basic and it goes with everything. The bag is perfect, you can find it on JustFab website, like my black heeled booties.
I hope you like the post, have a wonderful day! Today is my first day of German academy. 
Botines / Booties: JustFab
Bolso / Bag: JustFab
Jersey / Sweater: Asos
Sombrero / Hat: Asos
Falda / Skirt: Asos