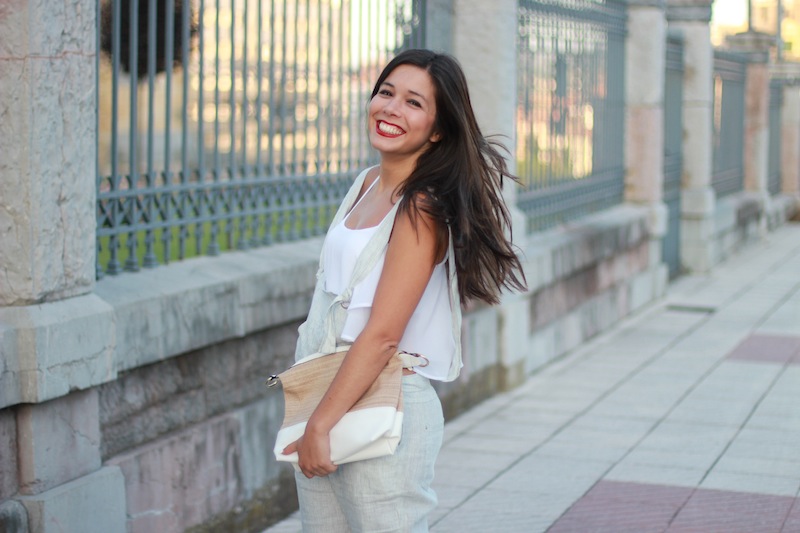 Hola chicos, ¿qué tal?
Ayer estuve con mi amiga Olga, que muchas conoceréis por su blog MartidamainStyle, en los desfiles de TRESemmé de MFShow. Hoy y mañana también hay pero me va a ser imposible asistir, mañana tengo una fiesta de El Corte Inglés y la revista Vanidad y hoy toca ir al gimnasio. El jueves es la Vogue Fashion Night Out e iré a un evento muy especial que estoy deseando contaros, lo podréis seguir en mi Instagram (@dostaconesparamiarmario) y en Snapchat (maria-pintado).
Estas fotos las hice en Oviedo hace unas semanas y tenía muchas ganas de enseñaros este peto de lino de Mango. Es súper fresquito y perfecto para esos días de verano en los que la temperatura no es lo suficientemente alta. Quise combinarlo con complementos en tonos tierra para no quitarle el protagonismo que se merece. Las sandalias son súper cómodas. ¿Os gusta? Espero que sí y que tengáis un gran día.
Hello guys! How are you?
Yesterday I attended a fashion show with my lovely friend Olga, MartidamainStyle. Today and tomorrow I won´t assist because I´ll go to a special El Corte Inglés party. On Thursday is Vogue Fashion Night Out and I´ll tell you about my night on Instagram (@dostaconesparamiarmario) and on Snapchat (maria-pintado).
This photos were taken a few weeks ago, when I visited my family in Asturias. I wore this fantastic dungaree which is perfect for summer nights. I chose earth tones accessories. The sandals are really comfortable! Do you like it? Have a wonderful day!
 Peto / Dungaree: Mango
Sandalias / Sandals: Mango
Camiseta / Croptop: Bershka