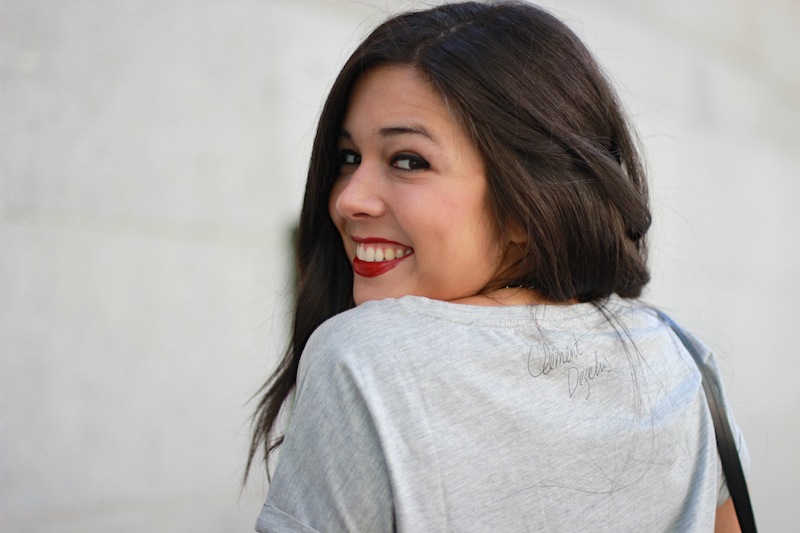 Buenos días y feliz viernes a todos.
¿Qué tal vuestra semana? La mía muy bien, aprovechando el buen tiempo para tomar el sol y coger algo de color ya que este año todavía no he pisado la playa.
¿Os gusta mi camiseta de Promod? El famoso y joven ilustrador Clément Dezelus ha sabido plasmar el estilo parisino en las tres prendas, dos camisetas y una sudadera, de su colección cápsula. Además, hasta este domingo, por la compra de una de las prendas de esta colección especial tenéis de regalo la shopping bag que llevo en las fotos. En la web de Promod están de sorteo, 100 láminas firmadas y numeradas valoradas en 130€, ¡mucha suerte a todos los que participéis!
Para completar el look me puse mis jeans rotos que tantas veces me habéis visto, unas sandalias de tacón y un collar que daba el toque final al look. Espero que os guste y que tengáis un buen fin de semana.
Happy Friday!
How is going your week? I´m going to the swimming pool everyday because this year I haven´t gone to the beach yet.
Do you like my Promod T-shirt? The famous and young illustrator Clément Dezelus has designed two T-shirts and a sweater on a capsule collection with Promod. Furthermore, until Sunday, if you buy it Promod gives you a shopping bag for free. You can check it on their website.
I wore my boyfriend jeans which I love and I have shown you a lot of times, heeled sandals and a special necklace. I hope you like it and have a wonderful weekend!
Camiseta / T-shirt: Promod
Jeans: Otra temporada / Old. Similar aquí / here
Bolso / Bag: Otra temporada / Old. Similar aquí / here
Sandalias / Sandals: Otra temporada / Old. Similar aquí / here
Collar / Necklace: Otra temporada / Old. Similar aquí / here