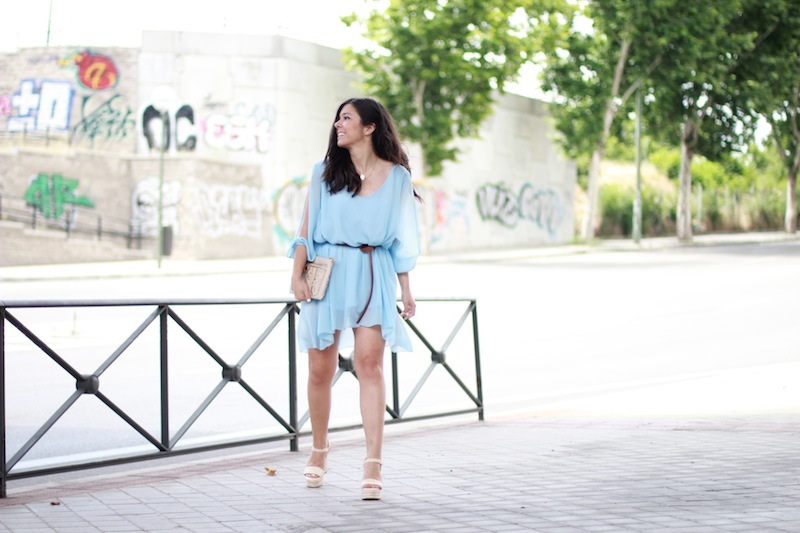 Buenos días y feliz lunes a todos. ¿Qué tal el fin de semana? El mío súper bien, estuve en Valencia con las amigas que conocí en Londres y fueron tres días geniales. En mi Instagram (@dostaconesparamiarmario) y en Snapchat (maria-pintado), pudisteis seguirlo al momento.
Las fotos de hoy son de hace tres meses, se puede notar en el tono de mi piel. Las sandalias de rafia os las he enseñado muchas veces, me las pongo con todo. El bolso me lo regaló mi amiga Silvia hace un año y el vestido fluido con las mangas abiertas es perfecto para los días de verano, por lo fresquito que es y su color azul cielo que siempre está de moda. Le añadí un cinturón para que se ajustase en la cintura aunque también quedaría genial sin él.
Un beso enorme, mañana nos volvemos a ver por aquí.
Good morning and happy Monday! How has been your weekend? I was in Valencia with the friends I had met in London and last three days have been fantastic. On Instagram (@dostaconesparamiarmario) and on Snapchat (maria-pintado), you could follow it at the moment.
This photos were taken three months ago, you can see it on my skin tone. I have shown you my raffia sandals, I wear it all the time! This bag is a present and the blue dress is perfect for summer nights, the color is perfect and it´s trendy.
xxxxx, see you tomorrow!
Vestido/Dress: Motufashion
Sandalias/Sandals: Pull&Bear
Collar/Necklace: Pull&Bear