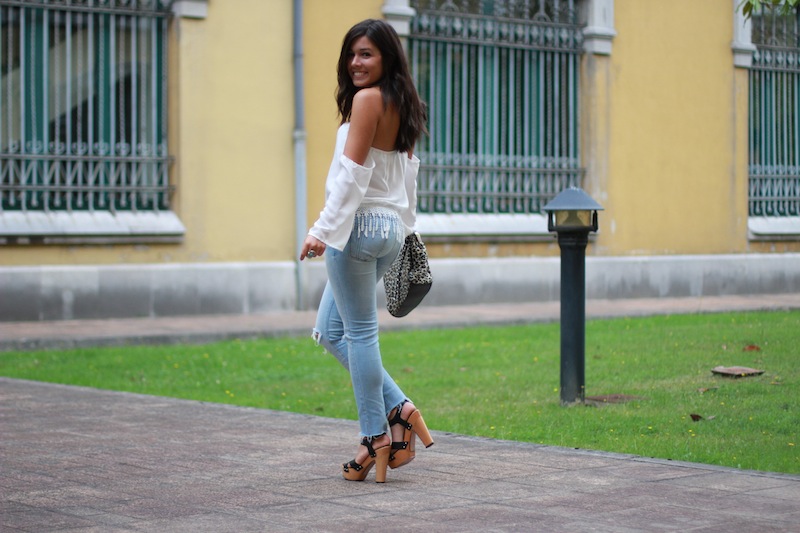 ¡Ya estamos en el ecuador de la semana! En Oviedo son las fiestas, San Mateo, y no paramos, las calles están llenas de gente y quiero aprovechar al máximo mis últimos días en la capital del Principado.
¿Qué os parece mi camiseta? Este tipo de escote que se llevaba hace años vuelve a ser tendencia. Así que en cuanto vi esta camiseta de SHEINSIDE no lo dudé. En esta marca tienen muchísimas prendas que están genial de precio, ya he fichado varias prendas para la próxima temporada. ¡Espero que os guste!
It´s the middle of the week! Now I´m in my city, and are the festivals! So I´m everyday with my family and friends because in a few days I´ll go to Madrid again.
What do you think about my shirt? I love it!!! This top is really fashionable so when I saw it I had not doubt! I love SHEINSIDE brand! They have really beautiful and cheap clothes! I have seen a lot of clothes which I love! I hope you like it!
Camiseta: SHEINSIDE
Jeans: He cortado unos viejos.
Bolso: Otra temporada.
Sandalias: Regalo de mi querida Gema. Sí, ¡tengo las mejores amigas del mundo! :). Zara (otra temporada).
Anillo: Bershka (otra temporada).
Shirt: SHEINSIDE
Jeans: DIY
Bag: Old
Sandals: My lovely friend Gema gave me it! Yes, I have the best friends of the world! Zara (old)
Ring: Bershka (old).