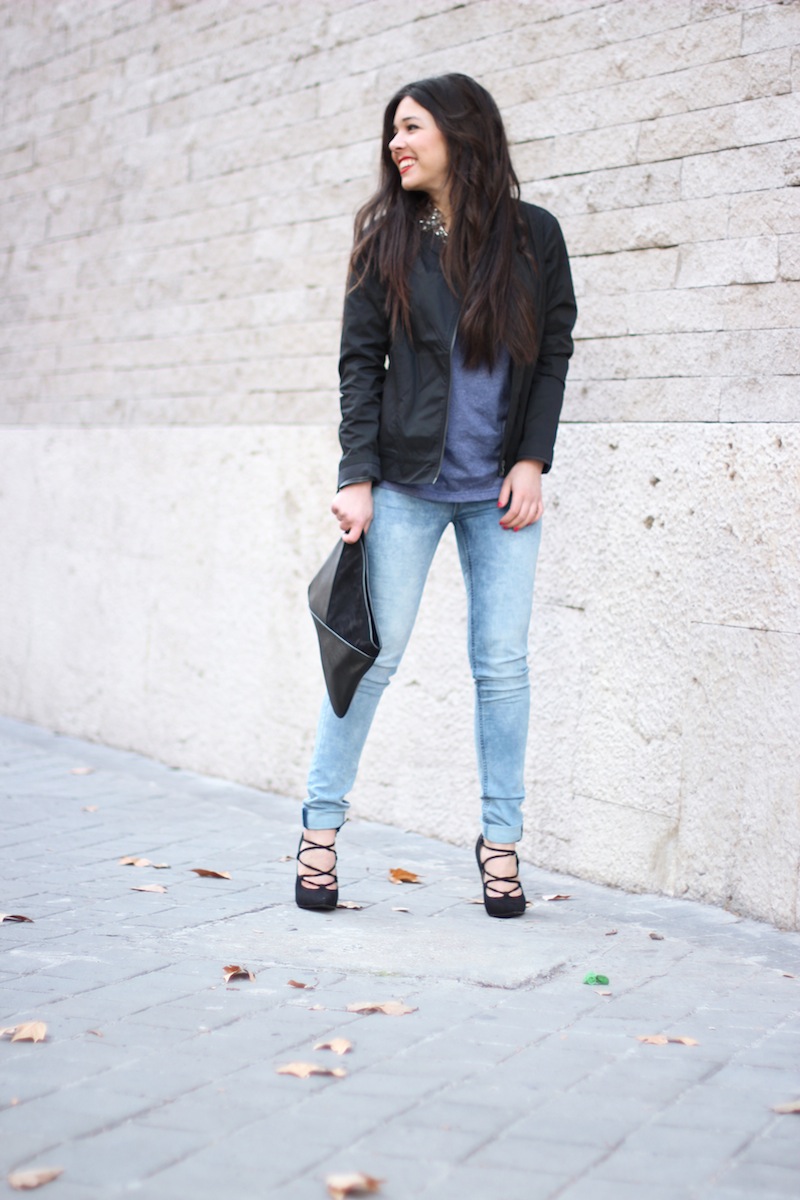 ¡Feliz lunes a todos! ¿Qué tal estáis? Yo genial. Este fin de semana fui a varios desfiles de la Fashion Week y a conciertos. La música, al igual que la moda, me apasiona. Si me seguís en Snapchat (maria-pintado) lo habréis visto.
¿Os gusta mi look? Todo lo que llevo, a excepción de los complementos, es de Bench. Esta marca me encanta, me parece perfecta para cualquier ocasión. Mis días no son nada rutinarios y a veces salgo de casa a primera hora de la mañana para trabajar, reuniones, eventos… y acabo con mis amigos tomando algo, en el teatro, un concierto, de cañas, de fiesta… Para eso tengo que ir preparada, llevo unos tacones en el bolso y una barra de labios. La comodidad y versatilidad de Bench hacen el resto.
Me encantan los looks de fiesta informales, unos vaqueros y una camiseta con algún detalle . Ésta con la espalda descubierta me parece perfecta. La chaqueta le da un toque informal sin restar elegancia al conjunto. Le añadí uno de mis collares preferidos y éste es el resultado. Espero que os guste tanto como a mí. Podéis ver mi post para Bench en su web.
Un beso enorme y nos volvemos a ver el miércoles por aquí.
Happy Monday! How are you?? I have attended fashion shows this weekend and I have new projects in mind and in a few days I´ll tell you, I´m so happy.
I love Bench clothes for women. It´s the reason why I choose it for any occasion.
My day to day is not a routine. I can choose the time when my work day starts but I don´t know when it ends. So, sometimes I must to wear clothes which are perfect for wearing during the day and for night time. I carry my high heels in a bag and I change the shoes when the party begins. I try on my lipstick too.
I love casual party outfits, wearing jeans and a special shirt like this. Backless top are really amazing and great for fashion events. The Bench jacket is so cool that I don´t take it off. I added one of my favorites necklaces and this is the result. You can check my post on their website. I hope you like it and have a wonderful day!
Total look: Bench
Zapatos/ Shoes: JustFab
Bolso/Clutch: Zara
Collar/Necklace: Zara