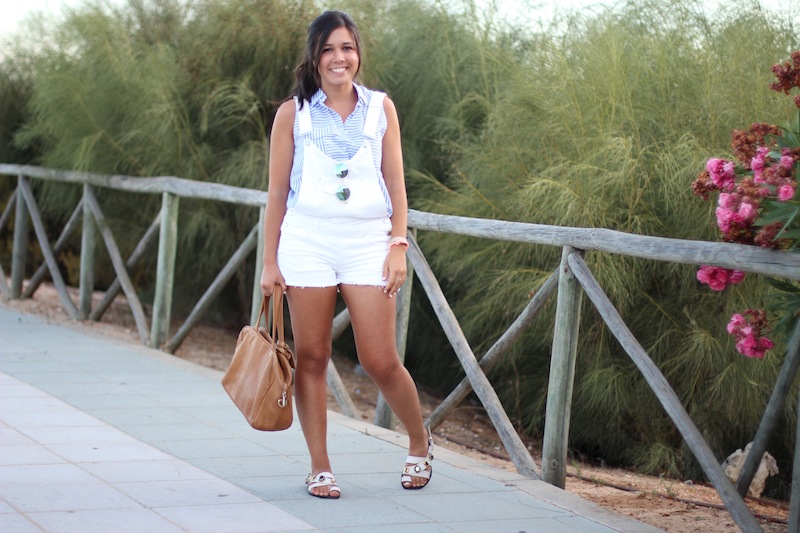 Feliz inicio de semana a todos. Estas fotos las hice en Punta Umbría pero podría llevar ahora mismo esta ropa, ¡en el norte hace buen tiempo! y aunque por un lado tengo ganas de estrenar las cosas de nueva temporada por otro prefiero que el calor se alargue todo lo posible. Edito y me retracto de lo dicho anteriormente: No para de llover.
Espero que os gusten las fotos. Llevo pulseras de Cosinas de Sara, tiene cosas monísimas que me encantan y de Wetech, ya os había hablado de estas pulseras interactivas en otro post.
Un beso enorme a todos y gracias por estar ahí.
Hi!!! Have a great beginning of the week! This photos were taken in Punta Umbría. Now I´m in the north of Spain and the weather is so good that I could be wearing it now! I have bought a lot go new season clothes but I have to wait for showing off new season outfits.
I hope you like this photos. I wear Cosinas de Sara bracelets, I love this brand! and Wetech bracelet! I spoke about it in other post, this bracelet connects with your mobile phone!
xxxx and thanks for reading!
Camisa: Zara (otra temporada).
Peto: Stradivarius (otra temporada).
Sandalias: Bimba & Lola (otra temporada).
Bolso: Topshop (otra temporada).
Pulseras: Cosinas de Sara y Wetech.
Gafas: Zara (otra temporada).
Shirt: Zara (old).
Peto: Stradivarius (old).
Sandals: Bimba & Lola (old).
Bag: Topshop (old).
Bracelets: Cosinas de Sara and Wetech.
Sunglasses: Zara (old).