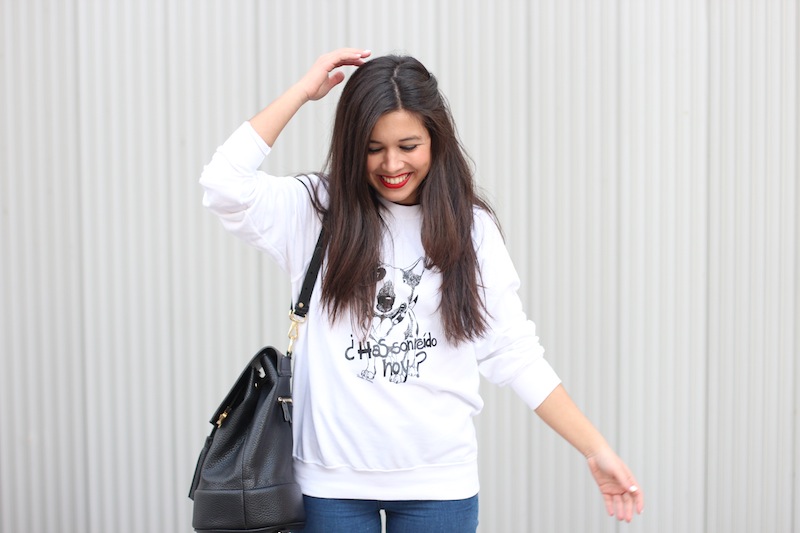 Últimamente me decanto por looks cómodos, sobre todo esos días en los que sé que no voy a parar desde por la mañana hasta por la noche. Sí, unos tacones estilizan mucho más, pero no puedo estar más contenta con mis nuevas Nike personalizadas y se han convertido en mi básico para esos días que me apetece ir cómoda pero a la moda. Para completar el look elegí esta sudadera de Paula Muñiz, una diseñadora de mi tierra, de Asturias, que hace camisetas, chaquetas, jerseys, sudaderas y complementos para hombres, mujeres y niños. Me encanta el mensaje positivo que transmite, creo que me viene que ni pintado, y nunca mejor dicho. Llevaba un lazo que se puede poner o quitar. Podéis ver más modelos en su web. Espero que a la pregunta de este diseño todos me respondáis que sí.
¡Un beso enorme y a comerse el martes!
I prefer to wear comfortable looks, furthermore I don´t stop doing things during the day, from morning to night. So, I love my new Nike sneakers. I chose my new Paula Muñiz sweater, she is a spanish fashion designer and she makes tops, jackets, sweaters… I love this positive message "Have you smiled yet today?" and it´s perfect to me! I hope you like and you have smiled1
xxx and have a lovely day!
Sudadera/Sweater: Paula Muñiz
Deportivas/Shoes: Nike personalizadas