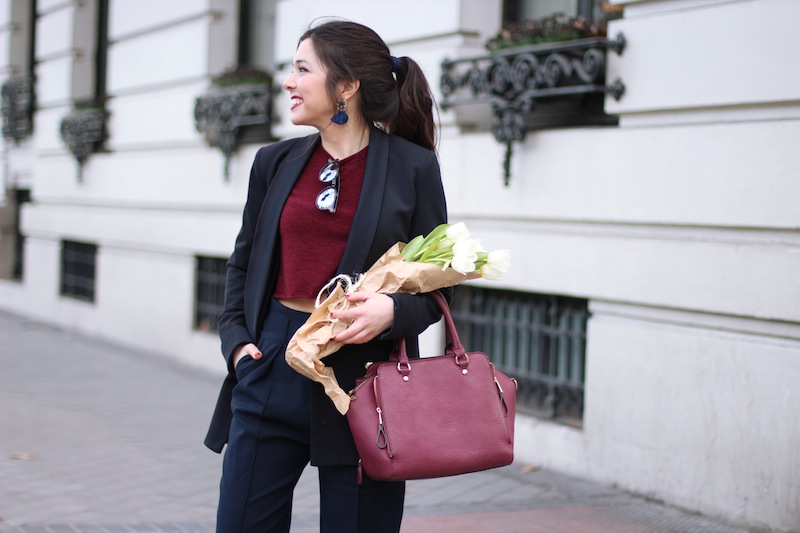 ¡Feliz lunes a todos! ¿Qué tal estos días? Yo muy bien, estuve en el evento de Pantene y pude conocer a la bloggera más famosa, la italiana Chiara Ferragni que nos contó sus secretos de belleza, sus sueños y lo contenta que está de poder ser la nueva embajadora de la conocida firma de champú.
Hoy os quiero enseñar un look perfecto para el día a día y para ir a a oficina que me puse el sábado cuando quedé con mi querida amiga Sara. Ella es la razón de que este blog siga adelante en Madrid ya que es la que está detrás de la cámara casi siempre, también es uno de los principales motivos de que en Madrid me sienta como en casa.
Los mocasines en tono granate son un básico, además el detalle de la lengüeta los hace muy especiales. La famosa americana azul marino de Zara ha sido, sin duda, una de las mejores compras que he hecho y a la que más uso estoy dando. El largo hace que sea perfecta para combinarla con pantalones de pinza, con jeans para conseguir looks más informales, con vestidos largos, con faldas… ¡con todo! Quería llevar un conjunto de traje bicolor, basado en el azul y el granate. Me estrené mis nuevos pendientes de Se escribe con B que no me pueden gustar más, ¡tienen complementos ideales! y las gafas de sol de Wolfnoir. ¡Espero que os guste y que empecéis genial la semana!
Un beso enorme y feliz día.
Happy Monday! How are you? I could attend some days ago the presentation of the new global Pantene ambassador, the famous italian blogger Chiara Ferragni, who told us her beauty secrets, her dreams and the happy she is at the moment she is living!
Today I would like to show you a perfect look for working or for all days, I wore it on Sunday when I met my lovely friend Sara. She one of the reasons why this blog is working, she takes me photos usually, she is one of the reasons why in Madrid I feel like at home too.
This brogues are perfect, I love them and the Zara blue co-order. I was looking for the blazer a lot of time and finally, I could buy it. It has been of the my best purchases because I wear it a lot! I wore my new Se escribe con B earrings and this Wolfnoir sunglasses. I hope you like it and have a lovely week!