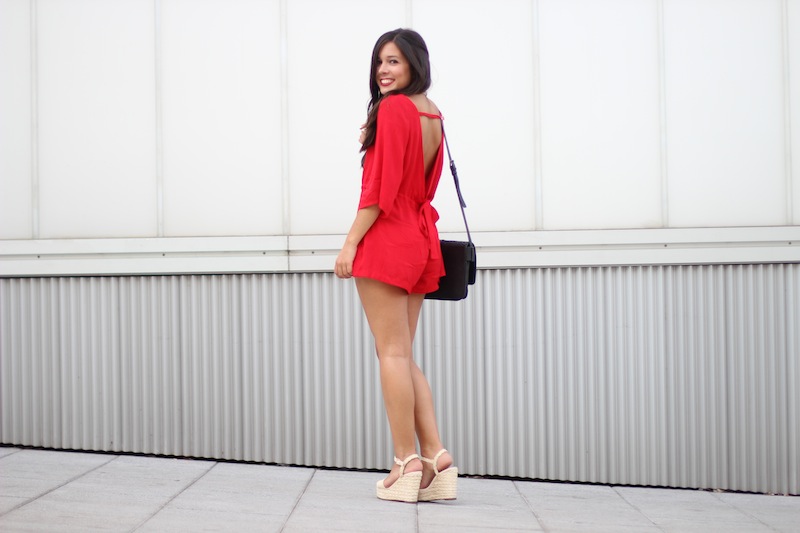 La semana está pasando súper rápido. Eso es bueno, significa que estamos aprovechando el tiempo al máximo y que está bien invertido. Este fin de semana viene mi amiga Sandra de Crème y le estaré echando una mano en el mercado central de diseño, por si os queréis pasar y comprar alguna de las joyas tan bonitas que tiene.
¿Os gusta mi mono? Creo que es la prenda que más me gusta de mi armario. El color rojo es mi favorito en la ropa, aunque no tengo muchas cosas en este tono. Las espaldas descubiertas me vuelven loca y los monos son mi perdición, así que si juntamos todo tenemos este resultado, un look que me encanta. Voy a ir así vestida muchos días pero combinándolo de forma diferente. ¿No os pasa que aunque tengáis muchas prendas os acabáis poniendo casi siempre las mismas? Los básicos como los jeans, las camisetas blancas y las prendas especiales, como este mono corto con el detalle del lazo en la espalda junto con el escote trasero que ha sido sin duda una de las mejores compras que he hecho. Está súper bien de precio, es barato, lo podéis conseguir en la web de Zaful.
¡Feliz jueves y mañana nos volvemos a ver por aquí! Os traeré un post más personal, no de moda, sino de mi rutina… Algo diferente que espero que os guste. También tengo pendiente algo que muchas me habéis pedido, tanto por privados como por emails y comentarios, enseñaros cómo me hago las ondas del pelo, lo sé y prometo que en cuanto saque un rato lo haré. Un beso enorme a todos y gracias por estar ahí, sin vosotros este blog no sería posible.
This week I´m really busy and time just flies by. It´s a good sign, it means I´m enjoying my days, because when you are happy and doing what you like to do, the time passes quickly. 
Do you like my red playsuit? I think it´s my favorite clothing this season, it´s perfect. I love red color, backless and the bow. I´m sure I´ll wear it a lot with different accessories. Furthermore it´s cheap. Zaful is a website where you can find beautiful and cheap clothes. In a few days I´ll show you more clothes from this brand. 
Have a fantastic Thursday! Tomorrow I´ll publish a post about my life and my daily routine, it´s different and I hope you like it. I have thought about publishing fashion videos on Youtube, would you like it? I want ideas and opinions. Thanks for reading, this would´t be possible without you.
Mono / Playsuit: Zaful 
Sandalias / Sandals: Pull & Bear