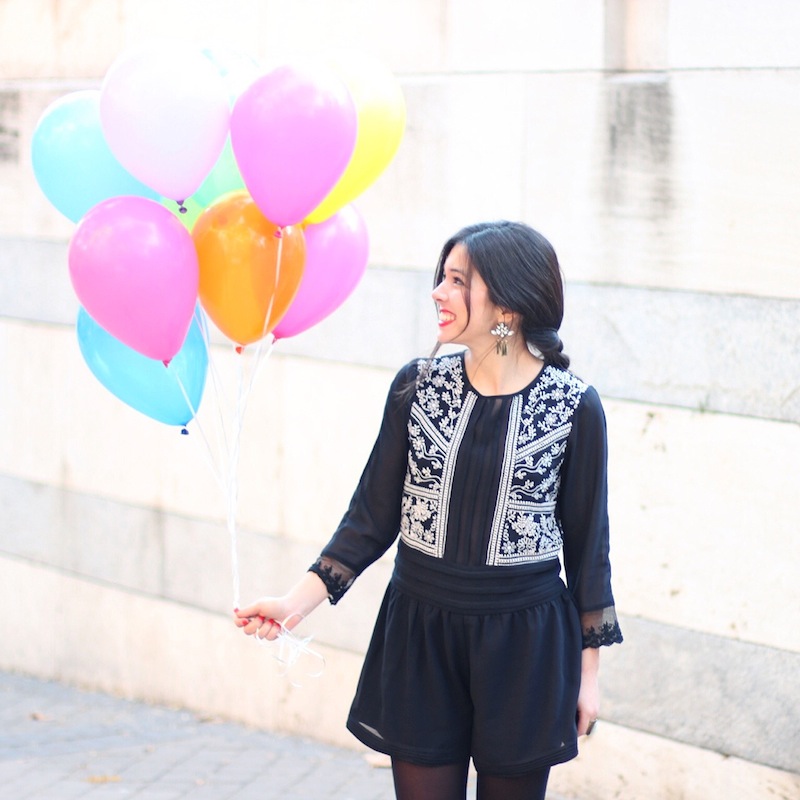 Buenos días. ¿Qué tal estáis? Yo llevo unos días mala pero poco a poco me estoy recuperando.
Hoy quiero enseñaros estas fotos. Parece que estamos de celebración con los globos y en realidad así es ya que cualquier día puede ser motivo de alegría. Celebro que llevo algo más de tres años con el blog, que esto que empezó por empezar está dando sus frutos, que sois muchos los que me mandáis emails preciosos y llenos de cariño y sobre todo que poco a poco todos podemos hacer nuestros sueños realidad.
¿Qué os parece el mono? Fue el que elegí para asistir al Open Day de Asos. Me encanta el detalle bordado del pecho en tono blanco y la espalda semitransparente, el detalle de las mangas tres cuartos me parece ideal. En Asos tienen cosas preciosas y perfectas para cualquier ocasión, ¡ahora también vestidos de novia! Cuando no encuentro lo que quiero busco en Asos y ahí está.
Un beso enorme a todos y feliz día.
Good morning! How are you? I´m sick since Monday but I´m recovering. 
Today I would like to show you this photos. It looks like we would be celebrating something, and in fact is because everyday is a special day. I celebrate that this blog has given me a lot of joy, all your beautiful emails and especially that all our dreams can be true.
What do you think about my playsuit? I wore it to attend Asos Open Day. I love this outfit and this brand. When I´m looking for a certain type of clothing I visit Asos website and I always find the perfect clothes.
xxxx and have a lovely day!
Mono/Playsuit: Asos
Zapatos/Shoes: Otra temporada/Old. Similar aquí/here