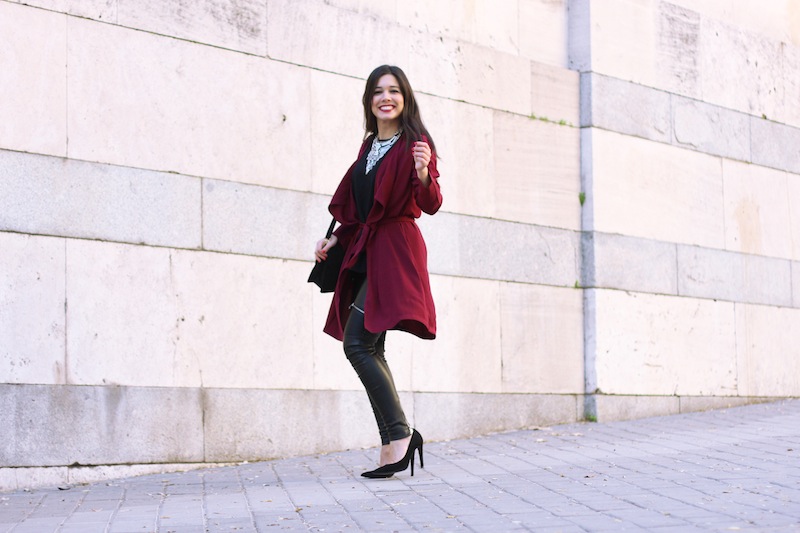 Muchas gracias a todos por las felicitaciones de cumpleaños, fue un día genial. Creo que el mejor regalo son los amigos y la familia y tuve la suerte de poder pasarlo con ellos, mi familia ha venido a verme unos días. Aunque soy asturiana, en Madrid también me siento como en casa, para mí hogar son las personas. Gracias a todos mis amigos, me hicisteis llorar desde que me levanté hasta que me fui a dormir, soy afortunada de teneros en mi vida.
Hoy me gustaría enseñaros el que se ha convertido en mi collar favorito. Me encantan los accesorios o gigantes o muy minimalistas. En cuanto vi este  maxi collar plateado de Nephra se me ocurrieron mil conjuntos con los que lucirlo. Da mucha luz a los looks ahora que tenemos que ponernos mil capas y taparnos con abrigos, solo hace unas semanas que lo tengo y no me lo quito. En la web tienen mil accesorios de este estilo, algunas cosas las veréis pronto por aquí. Seguro que encontráis el complemento perfecto para estas fiestas. Si queréis mi collar estáis de suerte porque con el código "2Tacones15ND" tenéis un 6% de descuento hasta el 9 de enero.
La gabardina me encanta, llevaba tiempo buscando una en el color de la temporada y ésta me parece ideal, me la pongo muchísimo y ahora que empieza a hacer más frío la llevo debajo de abrigos. Es de Shein donde podéis encontrar prendas ideales y súper económicas. Espero que os guste y que tengáis un buen día.
I can only thank my friends and family for their company and presents for my birthday, I´m glad and they are the best present. Madrid is my second home and I feel like at home. I´m lucky to have them in my life.
Today I would like to show you my new necklace, I love maxi necklaces like this, I think they are the perfect accessory this days, you can wear a total black outfit and this eye-catching necklace will be the protagonist! If you like it you have a 6% discount with the code "2Tacones15ND" on Nephra website. I have bought a lot of things on their website and I´ll show you more in a few days.
I love my new Shein trench, on this website you can find cheap and wonderful clothes, this coat is so lovely and I´m wearing it a lot. I hope you like it and have a terrific day!
Collar/Necklace: Nephra
Gabardina/Trench: Shein
Bolso/Bag: La Redoute
Pantalones/Trousers: Zara
Jersey/Sweater: Zara (otra temporada/old)