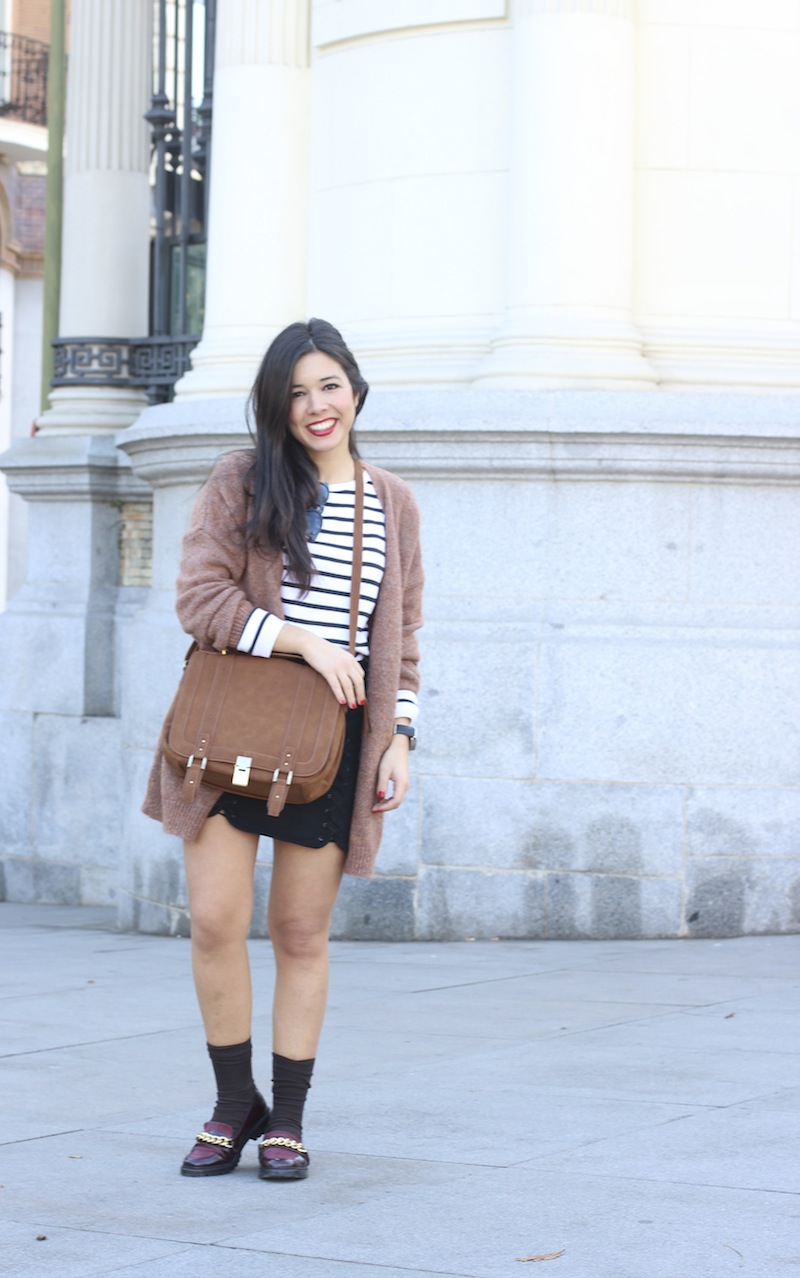 ¿Vosotros qué pensais de combinar mocasines con calcetines? Aunque me encantan los looks femeninos y un buen tacón, a veces también me apetece dar un toque masculino a mi estilismo. Llevar una camisa súper amplia de hombre o el jersey de tu chico. En mi caso no tengo a quién robarle las prendas del armario, pero con ropa de mujer también podemos conseguir ese toque que combina lo femenino y lo masculino, como Annie Hall. La chaqueta oversize y los zapatos con calcetines fueron los encargados de conseguir el resultado esperado al que añadí feminidad con la minifalda y el jersey de rayas.
Los complementos que llevo son de mis favoritos. El bolso de JustFab es súper cómodo y combinable. Mis nuevas gafas de Miss Hamptons me parecen preciosas, la montura en varios colores es ideal, podéis verlas al detalle y más modelos en su web. Tampoco podía faltar mi smartwatch de Huawei. Estoy súper contenta con él. Yo que me paso el día pendiente de las redes sociales (además del blog trabajo como community manager) me viene de lujo no tener que mirar el móvil cada dos por tres, mi reloj vibra y recibo las notificaciones en la muñeca, ¡una pasada! Además es súper bonito, moda y tecnología de la mano en mi muñeca, creo que no puedo pedir más.
Un beso enorme y feliz día. Os recuerdo que sigo de sorteo aquí y aquí. ¡Suerte!
What do you think about wearing brogues with socks? I love feminine looks and high heels, but sometimes I prefer to wear masculine style like this. A big shirt or your boyfriend sweater. You can use your clothes too and achieve a outfit like which I´m wearing with brogues with socks and a big jacket. My personal style is feminine, so I wore a skirt too. I hope you like it.
I love my accessories. JustFab bag, really useful. My new Miss Hamptons sunglasses and my favorite technologic watch, my Huawei Smartwatch which is perfect and I use a lot, so I don´t need to be looking at my phone, my watch tells me everything! it´s wonderful! Huawei effectively embraces the worlds of fashion and technology.
xxxxxx and have a lovely day!
Bolso/Bag: JustFab
Chaqueta/Jacket: Zara (otra temporada/old)
Falda/Skirt: Bershka
Jersey/Sweater: Asos
Zapatos/Shoes: Asos (otra temporada/old)
SmartWatch: Huawei
Gafas de sol/ Sunglasses: Miss Hamptons