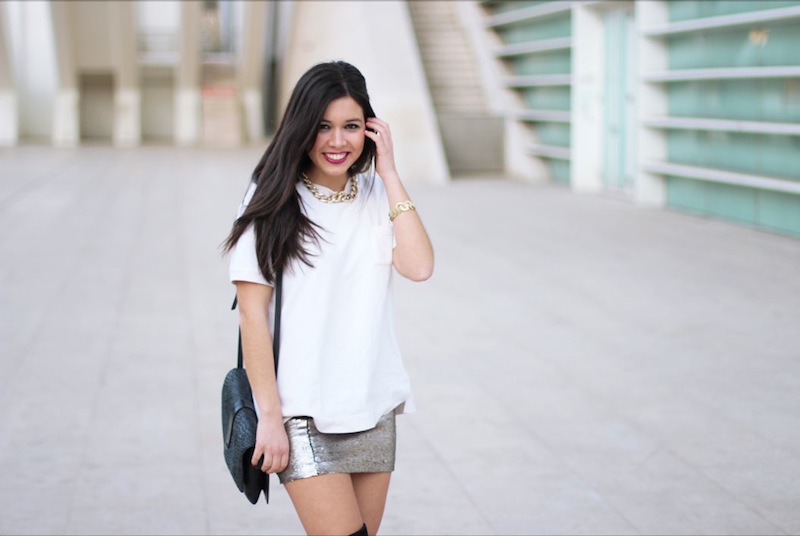 ¡Buenos días! ¿Qué tal ha empezado vuestra semana? La mía genial.
Ya sabéis que soy muy fan de las lentejuelas y de las prendas con detalles y este look tiene ambas cosas. La camiseta con los botones en la parte trasera era de mi madre y ahora me la he quedado. La minifalda de lentejuelas dorada de Zara es perfecta para los looks de noche, pero también para los de día. Me apetecía un conjunto menos arreglado por lo que en vez de ponerme unos taconazos los cambié por las botas altas por encima de la rodilla y decidí combinarlo con la chaqueta negra ya que la mezcla de lentejuelas y cuero es una de mis favoritas, por lo que completé el look con mi perfecto de cuero. ¿Os gusta? La pulsera de Pippa&Jean y el collar de cadena dorada que dieron el toque final. Un beso enorme y qué tengáis buen día.
Good morning! How is going your week?
As you know, I love sequins and fashion details, this outfit has both. This top has the buttons on the back, the sequins skirt is perfect for night looks and for the day too. I wore it with over the knee boots and a black jacket, I love wear sequins and leather. Do you like it? My Pippa&Jean bracelet is fantastic and the necklace too. xxxx and have a lovely day!
Falda/Skirt: Zara
Pulsera/Bracelet: Pippa&Jean