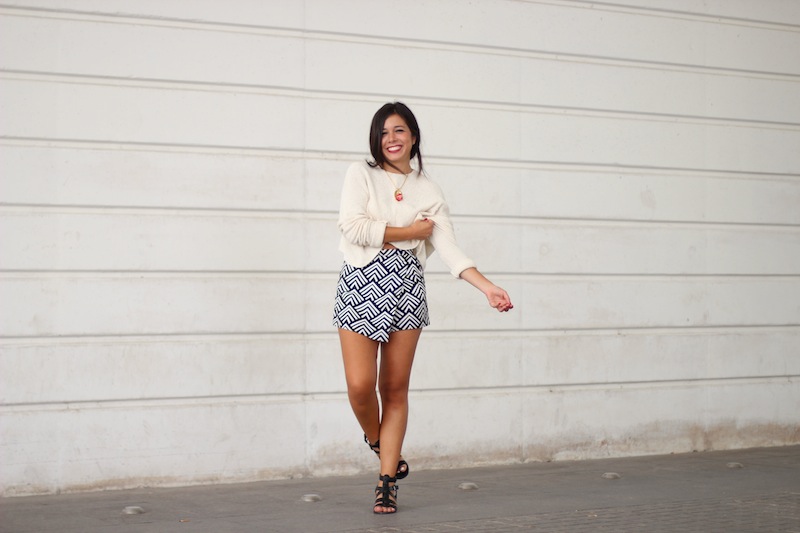 Feliz jueves a todos.
Hoy es un gran día, llega mi queridísima amiga Nadine de Berlín y estoy deseando estar con ella. Sólo serán unos días que espero aprovechar al máximo. Tengo la suerte de tener a grandes personas en mi vida a las que adoro y son amigas de verdad, benditas casualidades que se cruzaron en mi camino y que por mucho que pase el tiempo y que no nos veamos tanto como nos gustaría sé que siempre estarán ahí. Y después de este momento ñoño que me apetecía compartir con vosotros voy a hablaros de mi look.
En España hay grandes diseñadores que están comenzando su camino, haciendo lo que les gusta y lo que mejor se les da, dejando volar su creatividad y haciendo prendas tan bonitas como algunas de las que veis en este post. Laura Baena es una joven diseñadora de moda gallega a la que podéis comprar online las prendas que tiene. Este skort, o falda pantalón de toda la vida, es precioso, la combinación de blanco y negro es un básico que nunca falla y al que quise dar el protagonismo completando el look con prendas en tonos beige y negro. Para rematar el conjunto cogí prestado el colgante de mi amiga Sandra, unos labios rojos con la lengua fuera. Es de una joven diseñadora de joyas, Maya Vergel, que hace preciosas y originales piezas de cerámica y a la que pude conocer personalmente en el mercado central de diseño. Espero que os guste tanto como a mí y que tengáis un día genial.
Happy Thursday!
Today is a good day! My friend Nadine, from Berlin is coming to visit me. She is a perfect person and one of my best friends. She lives in other country so I can´t see her a lot as I would like, so now I´m really happy and this five days will be fantastic, I´m sure!
In Spain there are a lot of fabulous young fashion designers like Laura Baena. She is a Galician designer and she makes wonderful clothes, for example my skort. You can buy her clothes online. White and black is always a hit! My necklace has been made by a Spanish jewelry fashion designer, Maya Vergel, she makes wonderful ceramic designs. I hope you like it and have a great day!
Skort: Baena
Sweater: Otra temporada/Old
Colgante/Necklace: Maya Vergel