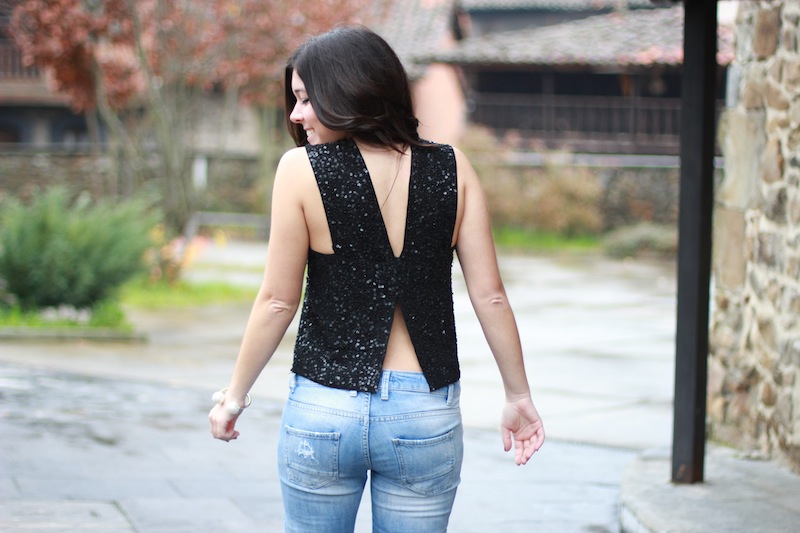 Hace años la noche de Reyes no dormía, estaba súper nerviosa por si Baltasar, mi rey preferido, traía las cosas que había pedido o si pasaba de largo. Me duró muchísimo la inocencia y me alegro de ello, la magia es algo que debería seguir siempre en nosotros. Hoy solo deseo que ningún niño se quede sin regalos. Yo ya no quiero juguetes y ropa no necesito, lo único que quiero es que mis sueños se sigan haciendo realidad y seguir siendo así de feliz. ¡Que sus Majestades de Oriente se porten genial con todos!
¿Os gusta mi camiseta? En cuanto la vi en Zara me encantó y me la he puesto bastante, el negro es un color que pega con todo y las lentejuelas le aportan ese toque especial. El abrigo se lo cogí prestado a mi madre, cuando estoy el Oviedo tengo el doble de prendas de abrigo :). Y los vaqueros llevan en mi armario desde que tengo 18 años.
¡Feliz noche a todos!
Many years ago I didn´t sleep this night, I was so excited because the Three Magic Kings were arriving. The innocence is fantastic and mine last very long. We should never lose magic. I hope all children have a surprise tonight. I only want happiness and to make my dreams come true.
Do you like my top? I fell in love when I saw it in Zara and I have worn it a lot! Black is a color that goes with everything and sequins add something special to it,  are fantastic. The coat belongs to my mother and when I´m in Oviedo I wear her coats too, so I have twice that. Jeans have been into my wardrobe from I´m 18 years old.
Have a magic night!
Abrigo: Sfera (otra temporada pero creo que ésta lo han traído igual).
Camiseta: Zara
Jeans: Zara (otra temporada)
Zapatos: Mango (otra temporada).
Pulsera: Zara (otra temporada).
Bolso: Mango (otra temporada pero lo tenéis parecido en Zara).
Coat: Sfera
Top: Zara
Jeans: Zara (old).
Heels: Mango (old).
Bracelet: Zara (old).
Clutch: Mango (old). You can find one like this in Zara.