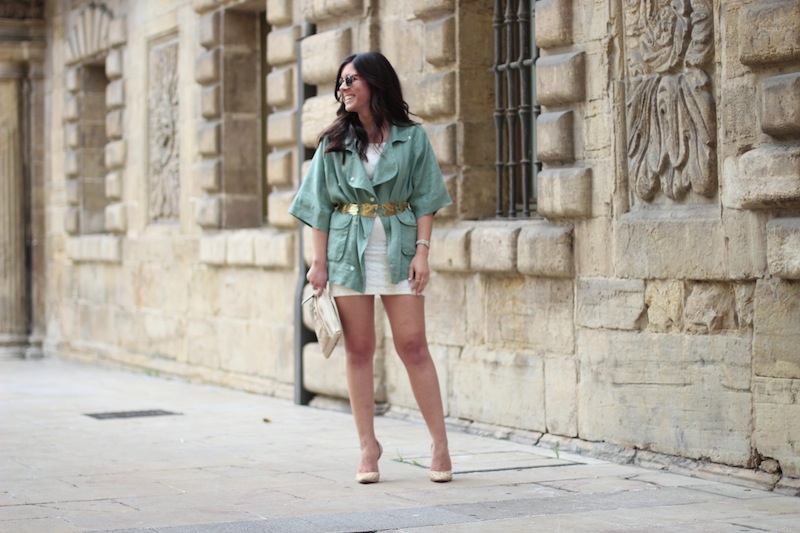 SHOP THE LOOK:
[show_shopthepost_widget id="193666"]
 El look de hoy está cargado de prendas básicas en tonos tierra que al juntarlas dan un resultado muy especial. ¿Quién no tiene un vestido blanco para el verano? Ya sea largo, corto, de vuelo, de encaje… es un básico que no puede faltar y que cuando nos ponemos morenitas sienta genial. Por el norte ya sabéis que el buen tiempo no es el protagonista, así que decidí combinarlo con mi nueva chaqueta de Front Row Shop, me encantan las prendas de esta tienda. Es una de mis preferidas para comprar online, cuando llega a casa no decepciona, la calidad es muy buena. Es de estas páginas en las que al recibir la prenda te gusta más que al verla online.
¿Y qué es de un look básico sin accesorios? ¿Os habéis fijado en mi pulsera? No sólo es bonita, sino que además es interactiva. ¡Se conecta al smartphone y permite activar numerosas funciones! En cuanto escuché hablar de ella no dudé en hacerme con una, probarla y contaros este nuevo descubrimiento. ¿Estáis en una reunión y no llegáis a tiempo a casa? Ahora no hace falta sacar el móvil, con acercar la pulsera es suficiente para que el smartphone anteriormente programado mande un mensaje a quién hayáis decidido. Y no sólo eso, tiene múltiples funciones que podéis ver en su página web. ¡Yo estoy encantada con mi pulsera Wetech! Moda y tecnología van de la mano. Sus diseños son preciosos. Os dejo la web para que echéis un vistazo. Pinchad aquí.
Today´s look is all about basics, clothes in earth tones that together give a very special result. Who does´t have a white dress into the wardrobe for the summer? I love all kind of white dresses because even the simplest dress looks amazing!! In the north of Spain the weather isn´t good, so we need wear jackets, so I chose this from Front Row Shop, I love this online shop!! Is one of my favorites! The quality is really goof and it never disappoints. When this clothes arrive at home, you can see they are better than in the website!
What is a outfit without accessories? Have you seen my bracelet? Is not only beautiful, is furthermore technological. It can be connected to the smartphone. Activate the function you would like to use and change it whenever you like. When I heard about it I had not doubt about try it as soon as I had the opportunity and now I can say I love my Wetech bracelet. Fashion and technology together? Now is possible. Click here if you want to see the website.
Vestido: Zara (otra temporada). Parecidos aquí, aquí y aquí.
Chaqueta:  Front Row Shop
Zapatos: Zara (otra temporada)
Pulsera: Wetech
Cinturón: Zara (otra temporada). Parecidos aquí, aquí y aquí.
Anillos: Pull & Bear (creo que ya no quedan). Parecidos aquí.
Gafas: De hace años de mi tía.
Bolso: Parfois (otra temporada)
Dress: Zara (old). Similar here, here and here.
Jacket:  Front Row Shop
Heels: Zara (old) 
Bracelet: Wetech
Belt: Zara (old). Similar here, here and here.
Rings: Pull & Bear. Similar here.
Sunglasses: Vintage
Bag: Parfois (old)
Un beso enorme a todos y hasta mañana.
xxx and thanks for reading!! See you tomorrow!