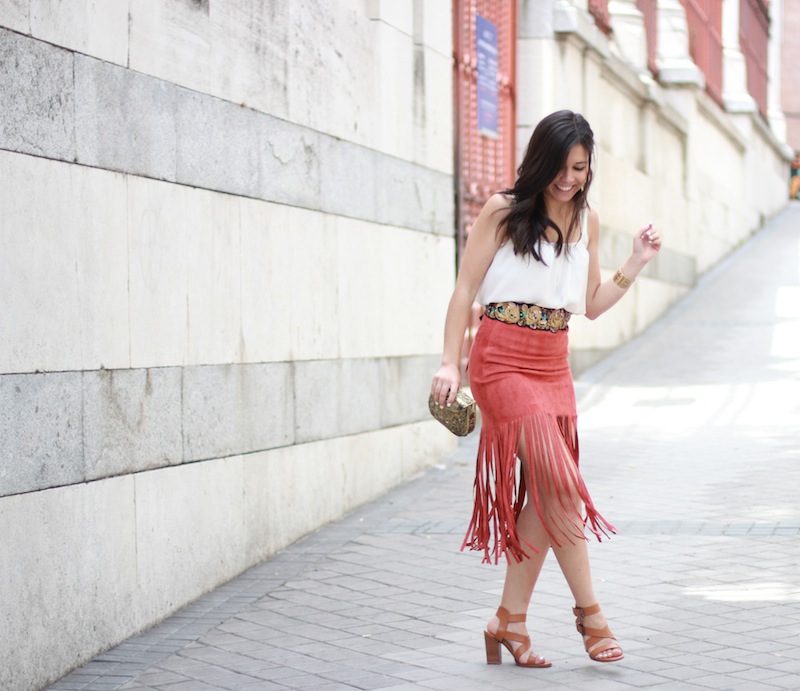 SHOP THE POST
[show_shopthepost_widget id="894040"]
Feliz viernes a todos.
¿Qué tal estáis? Yo muy bien, parece que cada día que pasa viene cargado de buenas noticias.
Por fin os enseño estas fotos que tienen más de dos meses. Fue el look que elegí para asistir al desfile de mi querido amigo, que también fue mi profesor de diseño de moda, Armiche, el director creativo y diseñador de la marca Nihil Obstat. Nos presentó su colección "The New Black" en el hotel Palace de Madrid donde pudimos ver vestidos de cocktail y de noche, pantalones anchos, faldas midi, tops, abrigos, capas…
A continuación os enseñaré alguna foto de ese día y también podéis visitar su web.
¿Os gustan las faldas de flecos? Ésta lleva más de dos meses en mi armario y ahora he visto que Zara ha sacado una parecida para su nueva colección, aunque en color negro. Sin duda me quedo con la mía, este tono me parece precioso y seguro que no me cruzo con mucha gente por la calle que vaya igual vestida porque aunque Asos lo conoce todo el mundo, tienen tanta variedad de prendas que nunca he repetido con nadie. He vuelto a ponerme el cinturón dorado por el que tantas me preguntáis, le doy muchísimo uso, tanto para looks informales como para vestidos o prendas elegantes. Espero que os guste y que tengáis un día y un fin de semana genial.
Happy Friday!
How are you? I´m really well, I have good news everyday!
This photos were taken two months ago and finally, I can show it to you! It was the outfit I chose to go to a fashion show. My teacher and friend Armiche showed us his new collection, "The New Black". Now I´ll show you photos.
Do you like fringed skirt? I love it! I wore it with my favorite belt which I bought in Zara two years ago, it´s perfect for formal or informal looks. I hope you like it and have a lovely weekend!
 Falda / Skirt: Asos
Clutch: Sfera
Sandalias / Sandals: Zara (otra temporada / old). Similar aquí / here
Camiseta / Shirt: Zara (otra temporada / old)
Pendientes / Earrings: Mango