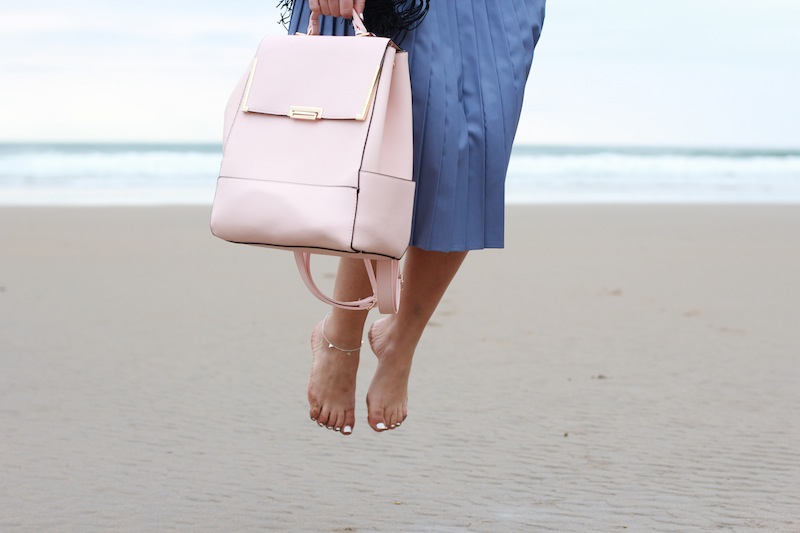 Buenos días a todos. Estamos de nuevo a lunes, los que me seguís en las redes sociales sabéis que el fin de semana estuve en Berlín y pronto veréis más fotos. Hoy os traigo un post muy especial que hice en Asturias.
¿Qué sería de un look de playa sin una pamela? La que he escogido está genial de precio y la podéis encontrar en la web de Asos.
Los que me leéis ya sabéis que Asos es mi web preferida para comprar online. Nunca se demoran en la entrega, es tal cual lo vemos en la página y además tiene video para que sepamos cómo es la prenda en movimiento. En caso de que no nos sirviese la devolución no puede ser más sencilla. Cada día compro más por internet y en especial en esta web de moda. Tenéis 10 € de regalo sólo por registraros y a veces también tienen descuentos especiales. Así que si aún no lo habéis hecho, ya estáis tardando. El look de hoy es suyo al completo.
¿Qué me decís de la mochila? Son tendencia este 2015 y en color rosa llevaba mucho tiempo buscándola. Tengo varias amigas que me la han pedido prestada. ¡Es ideal! Aquí tenéis muchas más y preciosas.
Las fotos las hice en la playa, pero esta falda seguro que me la volvéis a ver con taconazos, el color me encanta y es súper cómoda. Aquí podéis ver mis favoritas.
Qué tengáis un día genial y nos volvemos a ver pronto.
Good morning! It´s Monday again, this weekend I went to Berlin and in a few days you will see all the photos, but today I would like to show you a very special post, this photos were taken in Asturias.
Have you ever bought products online? ASOS is my favorite website.
I love their website because it´s easy to use and it has a lot of variety in clothes. You have a student discount and if you have an account you can enjoy their fantastic discounts! You can find skirts and bags like mine here and here.
Check their website. It´s fantastic!
Have a lovely week

Falda / Skirt: ASOS
Sombrero / Hat: ASOS
Jersey / Sweater: ASOS
Kimono: ASOS
Mochila / Bag: ASOS
Pulsera tobillo / Ankle bracelet: Crème