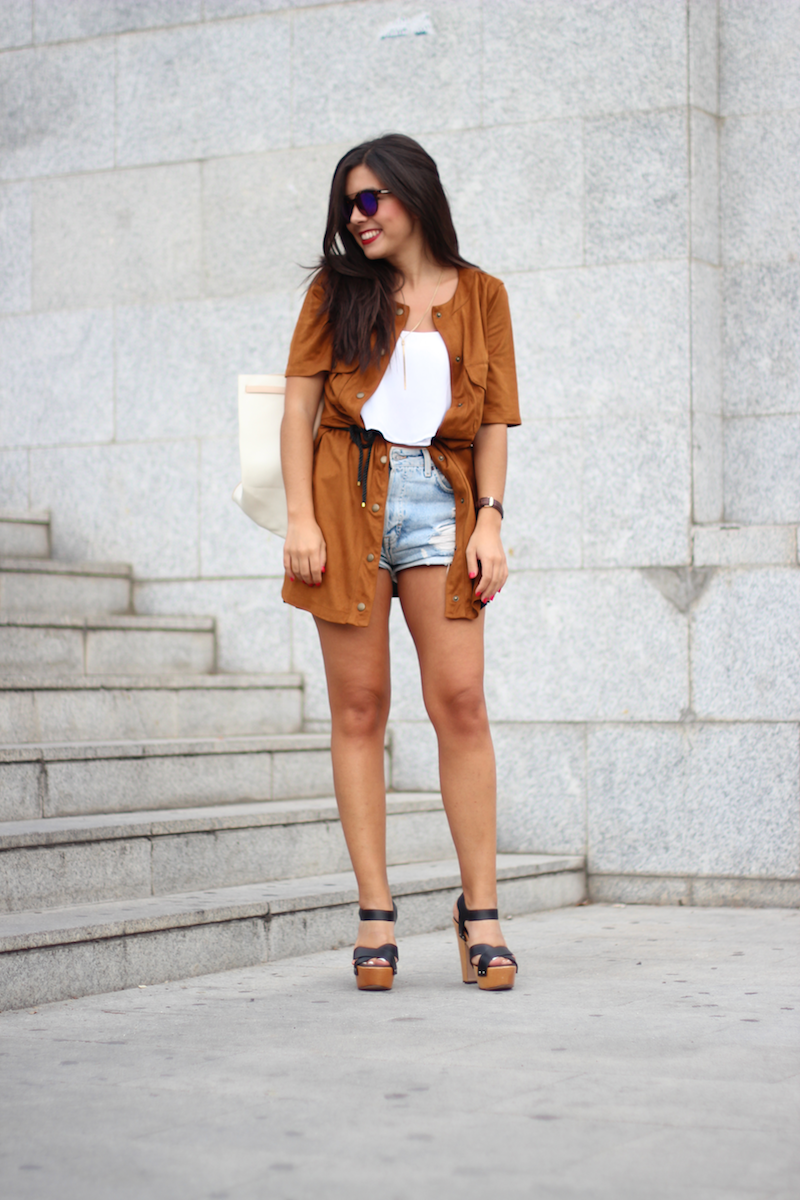 Feliz día a todos. ¿Qué tal?
Hoy es la #VFNO2015, Vogue Fashion Night Out, la noche en la que las tiendas, restaurantes, hoteles y boutiques abren sus puertas hasta la medianoche en una fiesta con sorpresas, descuentos especiales, música en directo y muchas cosas más. No me lo pienso perder, empezaré por una de mis tiendas favoritas, en parte gracias a la chica de prensa tan encantadora que tienen, Promod y luego tengo un evento muy especial que ya veréis, no quiero adelantar nada, podréis seguirlo al momento en mi Snapchat (maria-pintado).
El look de hoy me encanta. Las prendas de ante son la última tendencia de 2015  y vienen pisando fuerte para este otoño invierno. Mi chaqueta larga se trata en realidad de un vestido de ante marrón, o eso ponía en el ticket de Zara. Es una prenda muy versátil que podemos utilizar de diferentes maneras. Como vestido si abrochamos los botones, como chaqueta larga suelta o ajustándolo a la cintura como he hecho yo. Para la cintura me puse mi nuevo complemento de Como el Aire en Tu Cintura. Llevaba tiempo buscando un cinturón con una hoja dorada, pero no encontraba el que me encajase, hasta que vi éste. Es artesanal y hecho en España, la calidad es perfecta y no puede ser más bonito. Aquí no se luce lo suficiente porque la chaqueta lo tapa un poco, pero me lo pienso poner con todo, ¡me encanta! Lo veréis infinidad de veces en mi blog y en muchos otros looks será el merecido protagonista.
El bolso en tono crudo es de Justfab, os he hablado varias veces de esta marca, tienen prendas ideales y a un precio genial. Este bolso es perfecto para esos días en los que vas a trabajar con zapatos planos y sabes que después se alargarán los planes hasta altas horas, como me pasó ayer. Llevaba los tacones y la cámara de fotos guardados en el bolso. Es ideal para los looks del día a día y súper cómodo.
Ahora el complemento por excelencia, mis nuevas gafas de sol Ipanema de Visión1 Optical. El detalle del doble puente las hace más especiales y el color es súper favorecedor. Se trata de una empresa asturiana que ya conocía desde hace mucho tiempo y ahora empieza a vender online. Paso por delante de una de las ópticas, Navarro Óptico, casi a diario cuando estoy allí, ahora no tengo excusa, no tengo que recorrer Kilómetros, estoy a un solo click de distancia. Son conocidos por su calidad y por tener modelos tan bonitos como éste y su precio competitivo. Pronto os enseñaré más.
Un beso enorme y a disfrutar del jueves. ¿Os veré esta noche? Espero que sí.
Happy day! How are you?
Today is a special day, we celebrate in Madrid, Vogue Fashion Night Out and I´ll be there. Tonight a lot of shops, restaurants, hotels and boutiques open their doors to the midnight with surprises, special discounts, live music… I will begin for one of my favorite shops, partly thanks to the girl of press so nice who is working in Promod. After this I have a special event that you will see, I don´t want to advance anything, you will be able to follow it at the moment on my Snapchat: (maria-pintado).
I love today´s look. I´m wearing a suede dress but I wore it like a jacket, it´s versatile.I chose my favorite handmade Como el Aire en tu Cintura belt to adjust waist. My cream bag is fantastic, Justfab has lovely accessories and this is perfect for these long working days, you can keep your flat shoes into it! What do you think about my Ipanema sunglasses from Vision1 Optical? I love it, the color and the quality.
xxxx and have a fantastic day!
Reloj/Watch: Daniel Wellington
Gafas/Sunglasses: Ipanema Vision1 Optical
Chaqueta-Vestido/Jacket-Dress: Zara. Similar aquí/here
Cinturón/Belt: Como el Aire en tu Cintura
Bolso/Bag: Justfab