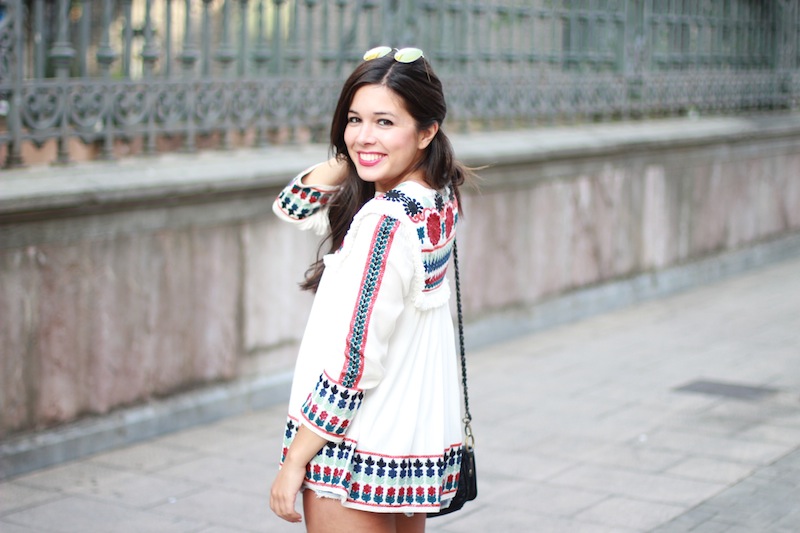 ¡Feliz miércoles a todos! Ya estamos a mitad de semana.
Estas fotos las hice hace unas semanas en mi visita a Oviedo, a mi querida tierra. Sólo estuve en Asturias cuatro días, no puedo ir tanto como me gustaría. Allí me estrené la chaqueta bordada de Zara que se ha convertido en una plaga este 2015 y ha arrasado. Cuando me la compré lo hice porque la blanca y azul que hubo antes que ésta se agotó y me quedé con las ganas de llevármela a casa. Ésta de flores bordadas en tonos rojos y azules es muy parecida a la anterior y para mi gusto más bonita. Si no ha desaparecido ya, seguro que lo hará pronto. Se la he visto a varias bloggers y a instagramers, parece que cuanto más nos enseñan una prenda más ganas tenemos de comprarla. Se ha hablado del fenómeno lo veo lo quiero en muchas webs. En vez de cansarnos de algo cuando lo vemos muchas veces, nos acaba creando una necesidad, al igual que ha pasado este verano con los bikinis de Triangl. Al final iremos todas de uniforme pero bien monas.
Personalmente, no me gusta que vayamos como clones por la calle, y ese es uno de los motivos por los que últimamente os enseño muchas más prendas que compro online y aunque digamos que esta chaqueta la tiene todo el mundo, yo sólo la he visto en las redes sociales, en la calle a nadie, y me la compré antes de que empezase a aparecer en todas las webs. ¿Os gusta? ¿La tenéis? ¿Se la habéis visto a muchas chicas?
Happy Wednesday! We are in the middle of the week.
This photos were taken a few days ago in my beloved city, Oviedo, in the North of Spain. I was only there for four days, I cannot go as much as I would like to go. There I bought this famous embroidered jacket that is being a must this 2015 and has triumphed. When I bought it I did it because white and blue jacket which was similar had been sold out. So when I saw this one of flowers embroidered in red and blue tones I had not doubt and I bought it. I´m sure that if it has not disappeared already, it will happen soon. Famous fashion bloggers and instagramers have this Zara jacket. Instead of saying "I don´t want it because everybody has it" we buy it! The same thing has happened with the famous Triangl bikini.
Personally, I don´t like wearing uniform , and it´s one reason why I buy online, however I only have seen this jacket in social networks. I haven´t seen anyone wearing it in the street. Do you like it? Do you have it?
Have a lovely day!
Chaqueta / Jacket: Zara
Shorts: Pull & Bear (old/otra temporada). Similar aquí/here
Sandalias / Sandals: Zara (old/otra temporada)
Gafas / Sunglasses: Wolfnoir