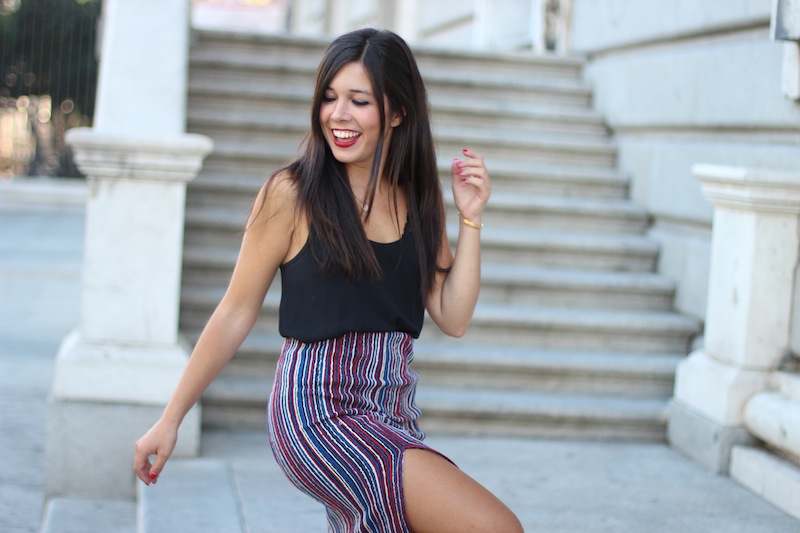 Buenos días y feliz lunes a todos.
¡Perdonad por mi ausencia de estos días pero he tenido muchísimo jaleo y me ha sido imposible actualizar! En un rato sale mi vuelo a Milán, me voy a un viaje súper especial gracias a Huawei y os contaré todo a la vuelta, mientras tanto lo podéis seguir en mi Instagram (@dostaconesparamiarmario) y en Snapchat (maria-pintado).
¿Qué os parece mi falda? Al principio no estaba muy segura porque al ser bajita me favorecen más las prendas cortas o largas, aunque con unos tacones se arregla y me encanta el resultado. Sé me da un aire a las faldas de Missoni pero ésta es mucho más económica, súper barata y la compré en Zara. Mis complementos personalizados son ideales, con frases llenas de motivación y optimismo como la pulsera que pone "más feliz que una perdiz" y describe mi estado de ánimo. El colgante lleva grabada una "M" de María, ¿no os encanta? Es de una chica de Asturias encantadora, Little Things Ideas con Amor. Tienen abalorios, pulseras, colgantes personalizados… ¡lo que queráis! Visitad la web porque os va a encantar, además es un regalo perfecto para una persona especial.
Espero que os guste y que tengáis un día genial.
Good morning and happy Monday!
Today I,m going to Milan to attend a special Huawei and Vogue event. You can follow my days on Instagram (@dostaconesparamiarmario) and on Snapchat (maria-pintado).
What do you think about my skirt? At first I was not sure and I had doubts because I´m not tall and this skirt long is not good for shorter people but, as I love it, I wore it with high sandals. My accessories are fantastic, Sara is the fashion designer who has created this bracelet and necklace with optimistic messages. Check her website and you´ll love it!
I hope you like it and have a fantastic day! 
Camiseta/Top: Topshop (otra temporada/old)
Falda/Skirt: Zara
Pulsera y colgante/Bracelet and necklace: Little Things Ideas con Amor