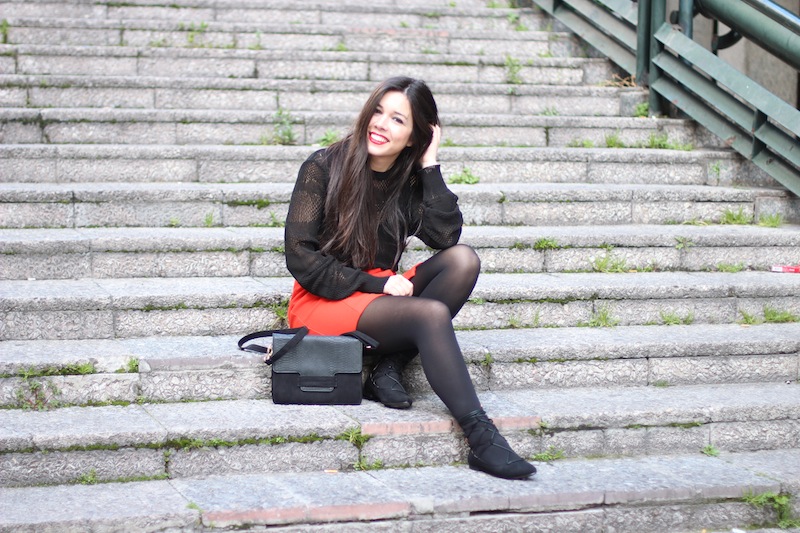 ¡Feliz miércoles a todos! ¿Qué tal estáis? Yo súper contenta con todos los cambios que está habiendo en mi vida a nivel laboral. Mejor dicho, todos los nuevos trabajos que me van saliendo como Freelance, relacionados con moda y música. Creo que no puedo pedir más.
Hoy os traigo un look muy especial, se trata de la colección cápsula de la maison francesa CARVEN para La Redoute, con siluetas inspiradas en los años 60 y 70, que se está agotando. Me gustaban varias de sus piezas, en especial este jersey calado que escogí en color negro para poder combinarlo con todo, y que tenéis en más colores. Quise aportar un toque de color al gris Madrid con esta minifalda roja de botones en la parte delantera. Las bailarinas y zapatos de cuerdas sabéis que son última tendencia. Por eso cuando vi éstas no lo dudé, quedan bien con cualquier tipo de look, con falda, vestidos o pantalón. Espero que os guste y que tengáis un día genial.
Happy Wednesday! How are you? I´m really happy with what I do, with all the changes in my life. All the new jobs I´m having about music and fashion. I think it´s perfect.
Today I would like to show you a special outfit, it´s the new capsule collection with CARVEN for La Redoute. I love all the collection, but especially this black sweater which I can wear with everything and you can choose color. This red buttons skirt is perfect for summer and winter. The rope shoes are so fashionable, so when I saw it I bought it. I can wear this flat shoes with dresses, skirts, trousers… I hope you like it and have a lovely day!


READ MORE