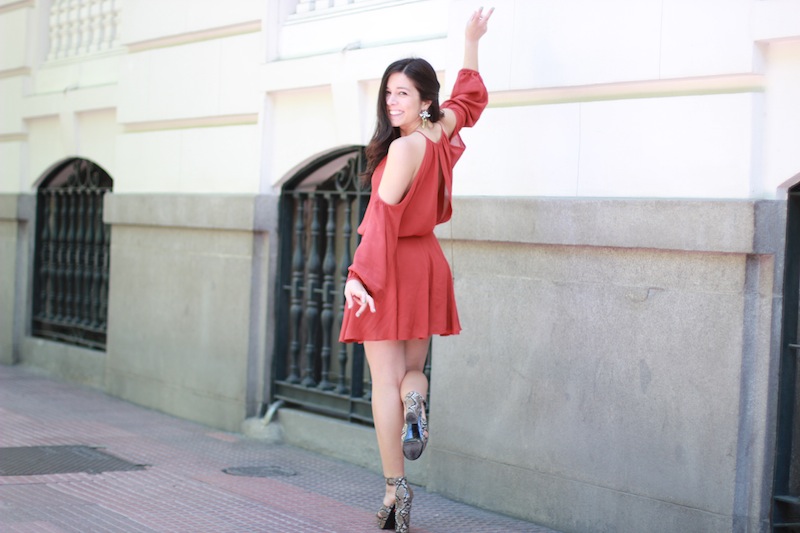 ¡Ya estamos a sábado!
Hoy os quería enseñar un look que ya habéis visto en Instagram ("Dostaconesparamiarmario"). Me puse este vestido de Zara con los hombros descubiertos que tanto se lleva esta temporada, para ir al evento de los 75 años de la Revista Semana. El bolso me encanta y fue súper barato, ¿el problema? que se engancha, así que si lo tenéis tened cuidado con qué ropa os lo ponéis porque destrocé el lateral del vestido que rozaba con él. Una pena porque el vestido es precioso, al menos para mi gusto.
Los taconazos son súper cómodos. Me encanta el estampado de serpiente en complementos o en detalles. Estas sandalias convierten en especial cualquier prenda de ropa.
Espero que os guste y que tengáis un buen fin de semana. Yo estoy en Madrid con una de mis mejores amigas que ha venido a verme desde Oviedo así que mejor imposible.
It´s Saturday!
Today I would like to show you a look which you had seen on my Instagram ("Dostaconesparamiarmario"). I wore this Zara dress with open shoulders that it´s a trend this season to go to a fashion event. I love the clutch and it´s really cheap.
The high-heeled sandals are very comfortable and make special any clothing.
I hope you like it and have a lovely weekend.
Vestido / Dress: Zara
Clutch: Sfera
Sandalias / Sandals: Mango Outlet
Pendientes / Earrings: Mango