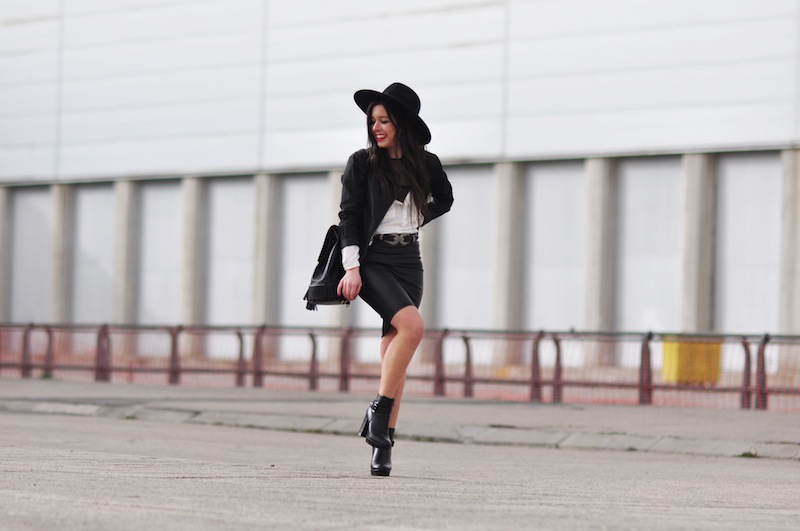 ¡Feliz miércoles a todos! ¿Qué tal estáis? Yo muy bien. Últimamente está habiendo cambios en mi vida relacionados con el mundo laboral, todos a mejor. Los que me leéis desde hace tiempo sabéis que dejé aparcados mis estudios de arquitectura por la moda y luchar por mis sueños. Estudié marketing y diseño. Poco a poco os iré contando. Hoy un adelanto. Empiezo a escribir artículos para Madaísh. Y una soñadora como yo no podría empezar con otro tema que no fuese qué hacer antes de los 30, o 60… porque nunca es tarde para ser lo que querías haber sido. De todos los puntos de la lista me faltan tres por cumplir, ¿y a ti?
¿Os gusta el look? Fue el que escogí para asistir el domingo al desfile de una de mis diseñadoras españolas preferidas, Teresa Helbig. Me volví a poner la bomber de Bench combinada con una camisa blanca que dejaba ver el sujetador de encaje. Sí, el plumeti del escote es de un sujetador que forma parte de la nueva colección de ropa interior de H&M. Quise apostar fuerte en los detalles, el cinturón de dos hebillas negro y plateado, el sombrero de ala ancha de Asos y la mochila negra de Zara. Espero que os guste y que tengáis un día genial.
Happy Wednesday! How are you? I´m really good. Lately there are many changes in my life, connected with the work world and all for the better. If you read me, you know I studied Architecture but I chose to follow my dreams and I studied fashion design and marketing too. I´ll tell you my new jobs in a few days. I can tell you in advance that I have begun writing fashion articles in a website, Madaísh. 
Do you like this outfit? I chose this to attend Teresa Helbig fashion show, she is one of my favorites Spanish fashion designers. I wore my Bench jacket with a white shirt and the black lace bra. My accessories are the most important part of the outfit, the hat, the belt and the backpack. I hope you like it and have a wonderful day!