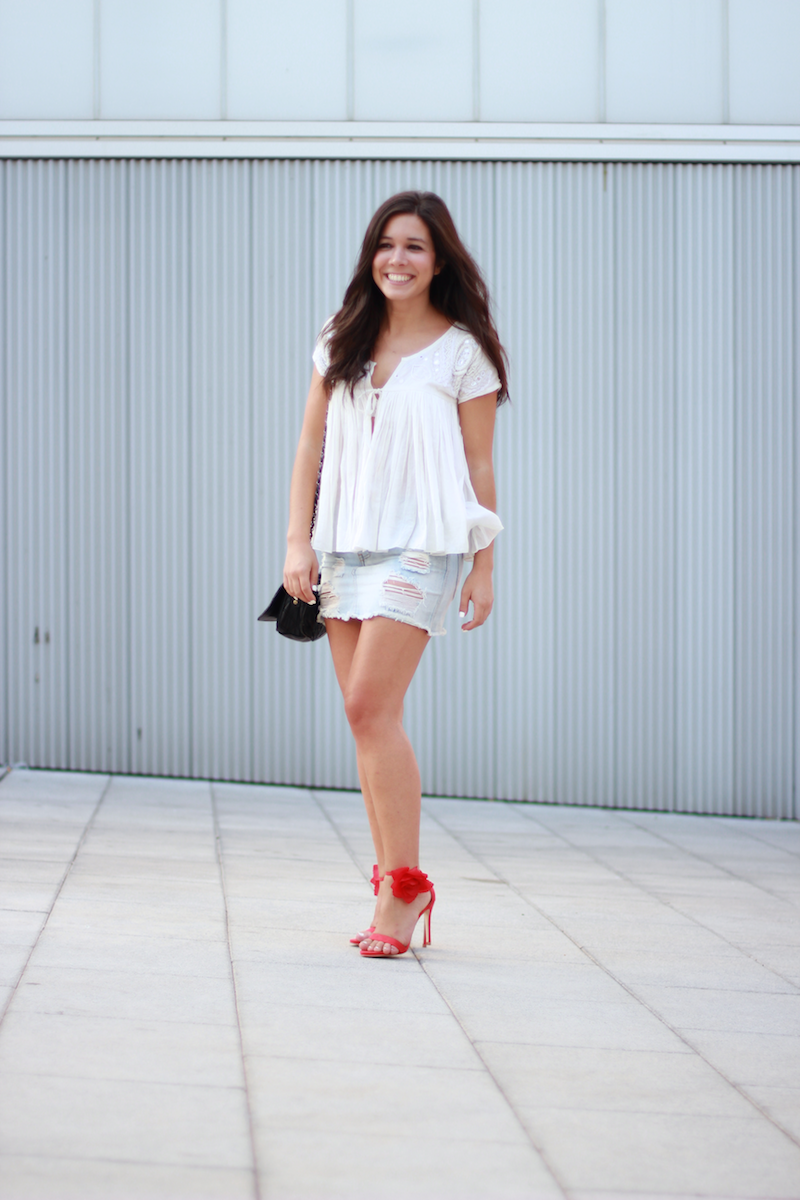 ¡Feliz viernes a todos!
Estamos a un sólo paso del fin de semana y la mía va de flores, me las autoregalo para decorar la casa y también las llevo en cinturones y zapatos. Hoy os quiero enseñar unos tacones con lo que no pasaréis desapercibidas. Son de la web Justfab. En España, poco a poco, vamos perdiendo el miedo a comprar online y las opiniones de la gente que lo hace siempre son buenas. Yo soy una gran fan de comprar desde casa, mucho más cómodo y podemos hacerlo tranquilas y sin esperar colas.
Cuando vi estas sandalias de tacón rojas con la flor no lo dudé y estoy súper contenta con ellas. Son muy cómodas y el color me parece precioso, además son baratas. Me apetecía llevarlas con un look más informal para que fuesen las protagonistas, aunque también son el calzado perfecto para cualquier evento importante o para una boda con un vestido más arreglado. La camiseta-chaqueta es mi favorita, ya os la había enseñado en otro post de mi blog, y hoy repito. Me encanta el blanco en la ropa, sobre todo en verano, siempre estará de moda. El volumen que se consigue en esta blusa en la parte inferior me parece ideal. ¿Os gusta?
Un beso enorme y feliz día. Gracias por estar ahí.
Happy Friday!
We are one step away from weekend! My week is being about flowers, I buy fresh flowers for no specific reason other than decorating my flat and for wearing it. Some days ago I showed you my flowers belt and now my flowers sandals. I love my Justfab heeled sandals. The color red is perfect and they are really comfortable.
When I saw this red sandals I had not doubt. I´m sure I´ll wear it a lot, for special events wearing elegant dresses. What do you think about my shirt? It´s my favorite garment! I love white in summer. Do you like it?
xxxx and thanks for reading!
Sandalias/Sandals: Justfab
Falda/Skirt: (otra temporada/old). Pull&Bear. Similar aquí/here
Blusa/Shirt: Urban Outffiters (otra temporada/old).
Bolso/Bag: Misako (otra temporada/old). Similar aquí/here.