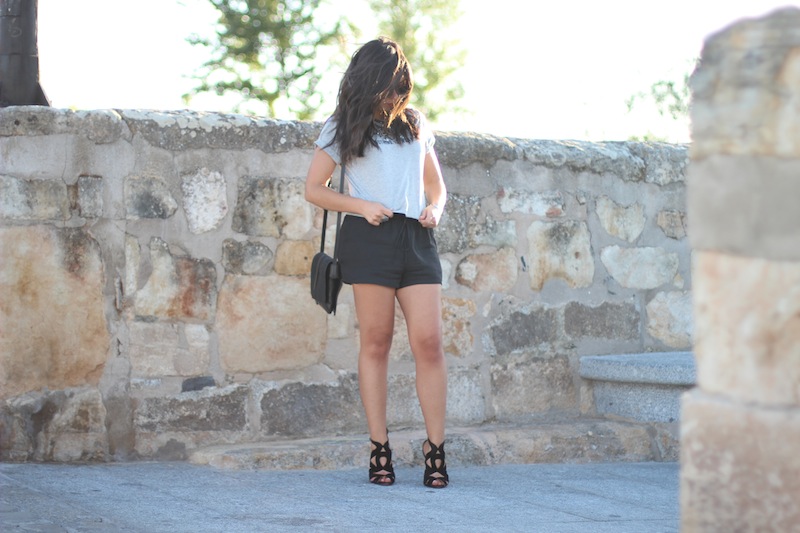 SHOP THE POST:
[show_shopthepost_widget id="250698"]
"No tengo nada que ponerme". ¿Cuántas veces habremos dicho esa frase teniendo nuestro armario lleno de prendas? Realmente con camisetas básicas estamos perfectas para cualquier situación dependiendo de con qué lo combinemos, desde unas deportivas y un vaquero para el día a día, a unos tacones y una falda para ir más arreglada.
Espero que os gusten las fotos y perdonad por estos días sin actualizar, he estado en Punta Umbría de vacaciones y he dejado un poco de lado el ordenador. Ahora estaré unos días en Béjar disfrutando de las fiestas.
"Nothing to wear". How many times has this sentence been said having a full closet? Basic T-shirts can be worn with jeans and trainers or skirts and high heels.
I hope you like the post, I have been some days in the South of Spain and now I,m in my mother´s village, Béjar. This photos were taken some weeks ago in Salamanca.
Camiseta: Asos
Pantalón: Zara (otra temporada). Parecidos aquí y aquí.
Bolso: Zara (otra temporada).
Sandalias: Zara (otra temporada). Parecidas aquí.
Anillo: Bershka (otra temporada).
Pulsera: "Berlín te espera". Regalo de una de las mejores personas que conozco. TE QUIERO NADINE (¡pronto nos vemos!)
Shirt: Asos
Short: Zara (old). Similar here and here.
Bag: Zara (old).
Sandals: Zara (old). Similar here.
Ring: Bershka (old).
Bracelet: "Berlin is waiting for your visit". It´s a present from one of the best person I have met. My lovely friend Nadine. I love you!! (see you soon!)