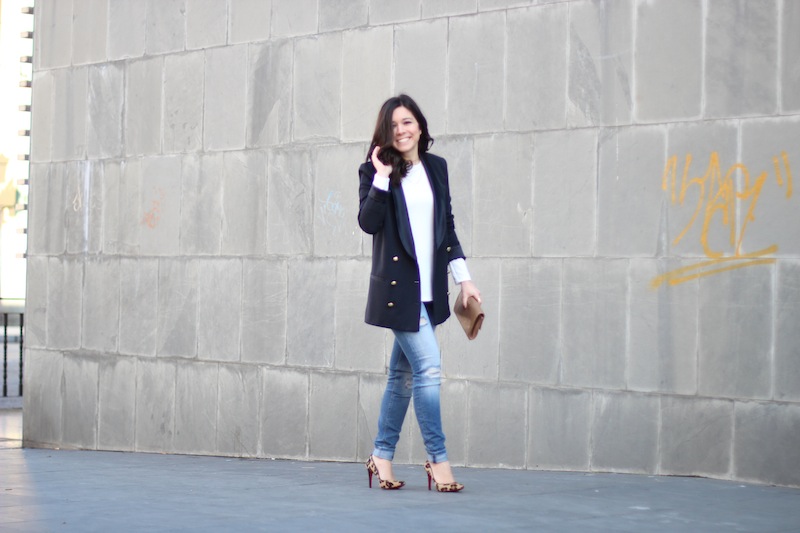 ¡Feliz lunes a todos!
Llevaba varios días sin publicar. Me llamaron hace dos semanas de Elle para volver a trabajar con ellos y no lo dudé así que dejé esto un poco abandonado. Los que me seguís en Instagram ya sabíais que estaba allí. Es increíble el buen ambiente que hay en la oficina, lo encantadora que es la gente y las buenas amigas que he hecho en poco tiempo. Tengo a niñas en la oficina a las que adoro y se han convertido, desde Septiembre que trabajé allí por primera vez, en grandes amigas. Y mi jefa… ¡un sol! Lo que hago allí son colaboraciones puntuales y lo único que deseo es acabar trabajando en un sitio en el que los compañeros, jefes y resto del equipo sean así. Una revista de 10 con un personal inmejorable.
¿Os gusta mi bolso? Es de Mariamare y me parece precioso, he descubierto esta marca hace poco y me encanta, además ahora lo tenéis genial de precio pinchando aquí. La americana me habéis preguntado muchas por ella y está agotadísima aunque os he encontrado una parecida aquí y mis zapatos los tenéis muy similares aquí.
¡Un beso enorme y empezad genial la semana!
Have a great Monday!!
I have been some days without writing because two weeks ago Elle magazine phoned me and I began to work there! So my blog was neglected, but I´m here again! If you follow me on Instagram you know I´m working there. Is incredible the good working environment. People is fantastic, i have built good friendships as well. My boss is fantastic too! I just wish to finish working in a place like that! a perfect magazine with perfect people!
Do you like my clutch? It´s from Mariamare, I love it and you can find it here. My blazer is sold out but I have found one similar here. And my shoes here.
xxxx and have a great week!
Clutch: Mariamare
Blazer: Zara. Similar aquí/here.
Camiseta/Shirt: Lookbookstore.
Zapatos/ Heels: Zapatería de Madrid. Similar aquí/here.
Jeans: Pull & Bear
Anillos y colgantes/ Rings and necklaces: Mango Outlet