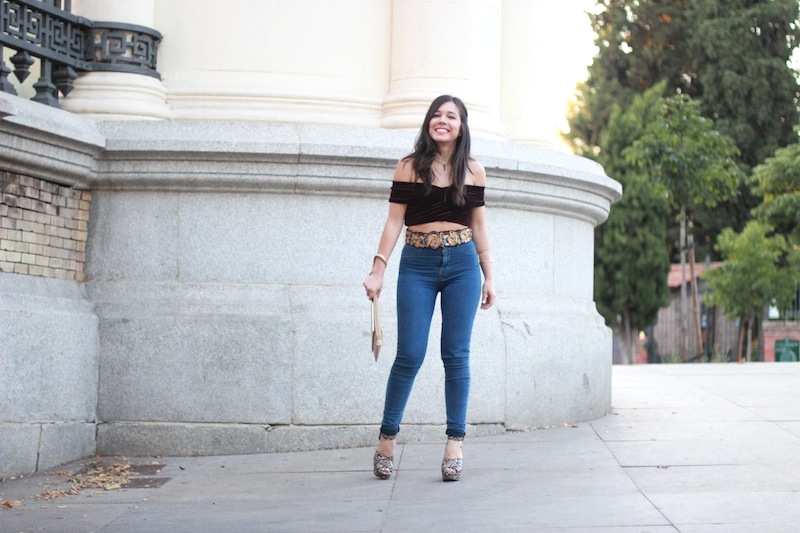 Buenos días a todos. ¿Qué tal? Cuando leáis esto yo estaré en Berlín. He dejado el post programado. Podéis seguir mi día a día en Instagram donde me encontrareis como "@dostaconesparamiarmario" o "María Pintado".
¿Os gusta el outfit? Me encantan los looks vaqueros y en especial con jeans de talle alto, estilizan mucho la figura y si antes creía que no me sentaban bien por tener curvas, ahora creo todo lo contrario y no me los quito. Los que llevo son de Pull&Bear, al igual que uno de mis colgantes. Siempre he dicho que mis pantalones favoritos son los de esta tienda, además de ser baratos se ajustan al cuerpo a la perfección quedando genial. Yo siempre los compro ahí.
Los pantalones de tiro alto los podes combinar con todo tipo de prendas pero, sin duda, con las que más se lucen es con crop tops. Éste de terciopelo granate me gusta muchísimo, lo compré en la tienda de Madrid de la calle Fuencarral aunque creo que también tienen venta online.
Mi bolso me encanta, es de Mariamare. Hace unos días os enseñaba mis últimas sandalias de esta marca y ahora este clutch dorado que veréis una y otra vez en este blog. ¿Ya tenéis algo de la marca de moda de bolsos y zapatos? Si no es así estoy segura de que en cuanto visitéis la web caeréis en la tentación.
Un beso enorme y feliz fin de semana.
Good morning! How are you? I´m in Berlin and the post was scheduled. You can follow my day to day on Instagram where you can find me like "@dostaconesparamiarmario" or "María Pintado".
Do you like my outfit? I love jeans looks, specially high waisted jeans, they fit really well and I don´t take it off. I bought it on Pull&Bear. I have always said I buy all my jeans there. They are really cheap and, in my opinion, the best.
I love combine high waisted jeans with crop top. I love this, the color and the fabric.
My new bag is fantastic. I buy a lot of accessories on Mariamare. This golden clutch is perfect and I,m sure I´ll wear it a lot. Check the website because you will love it!
xxxxx and have a perfect weekend!
Jeans: Pull&Bear
Colgantes / Necklaces: Pull&Bear, Mango
Bolso / Clutch: Mariamare
Sandalias / Sandals: Mango Outlet
Crop top: Brandy Melville
Pulsera / Bracelet: Six Shop (Calle Preciados)
Cinturón / Belt: Zara (old/otra temporada)