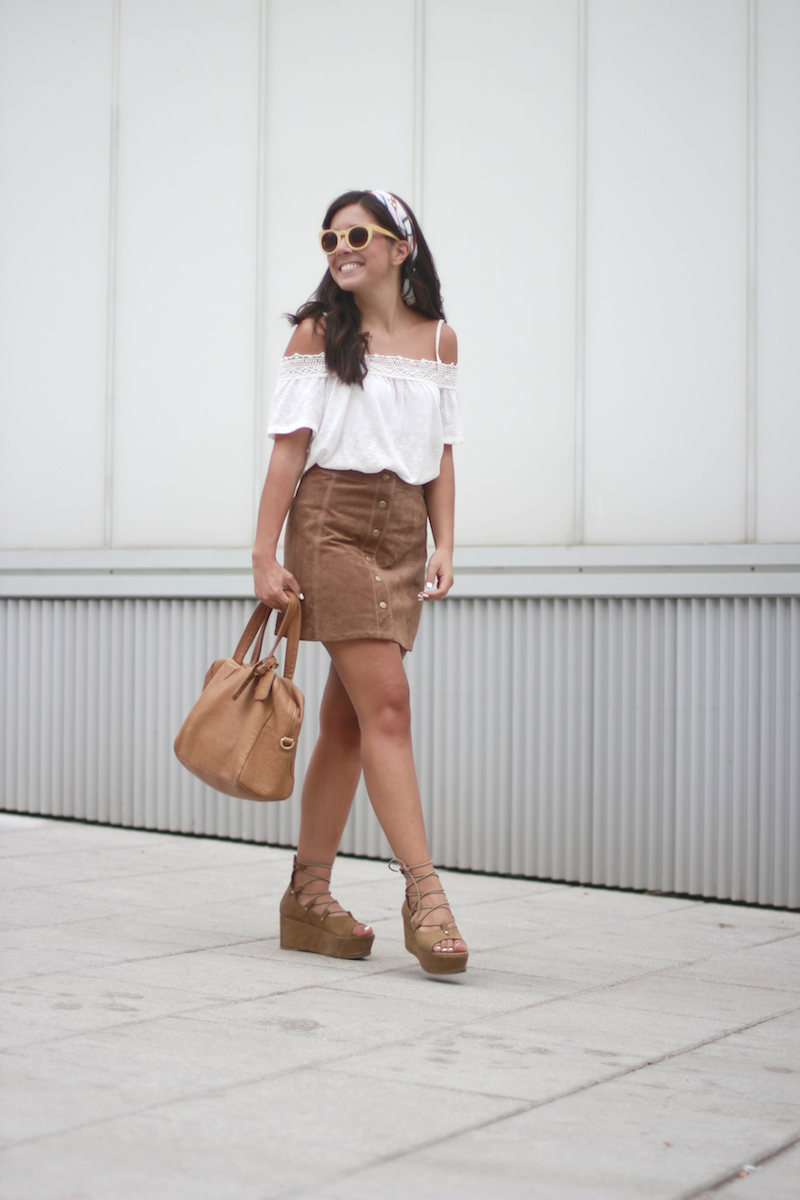 ¡Feliz lunes a todos! ¿Qué tal el fin de semana? Yo tuve visita así que súper contenta.
Hoy me gustaría enseñaron un look súper fácil de copiar. Estas faldas en forma de A con botones en la parte delantera son una de las tendencias que vienen pisando fuerte este 2015 y se quedarán también en el 2016. Como es verano y el blanco es mi color favorito en esta época del año, decidí combinarla con una camiseta de hombros descubiertos que tanto se lleva, tiene un pequeño detalle en la parte superior que consigue convertir un básico en una prenda especial. Las plataformas de cuerdas marrones me las habéis visto más veces, son súper cómodas.
Quise dar el toque final al look con mi nuevas gafas de madera de Lemboo, 100% madera de bambú, polarizadas y ecológicas de una empresa de Alicante. Tienen varias gafas de sol que podéis encontrar en su página web. A mí me parecen preciosas. Si os gustan estáis de suerte porque con el código "2TACONESPARAMIARMARIO" tenéis un 15% de descuento en cualquiera de sus modelos. Son baratas, las podéis comprar desde casa y en nada os llegan. Además son muy bonitas. 
¡Espero que os guste el post y que tengáis un día genial!
Happy Monday! How has been your weekend?
Today I would like to show you a look easy to copy. This type of skirts with buttons are really fashionable, it´s a 2015 trend and I think I´ll remain so. During the summer I love to wear white color, so this top with open shoulders is fantastic and it´s a special basic. I had shown you this brown sandals because they are very comfortable and I wear it a lot.
To complement this outfit I chose my new wood sunglasses made in Spain, eco-friendly and polarized. I love it. If you like it you have a 15% discount writing this code "2TACONESPARAMIARMARIO". 
I hope you like this post and thanks for reading! Have a lovely day!
Camiseta/Top: Stradivarius. Similar aquí/here
Falda/Skirt: Stradivarius. Similar aquí/here
Bolso/Bag: Topshop (otra temporada/old). Similar aquí/here
Sandalias/Sandals: Mango (otra temporada/old). Similar aquí/here
Gafas de madera/Sunglasses: Lemboo
Pañuelo/Headband: De mi abuela/Old. Similar aquí/here