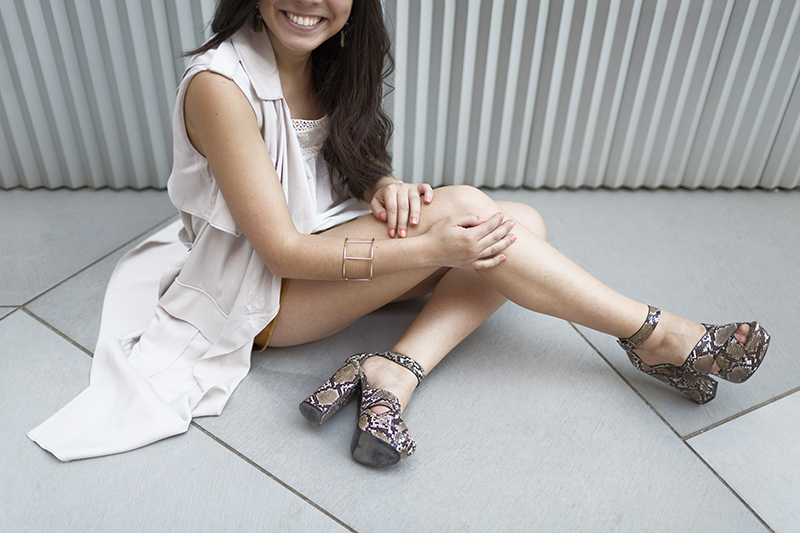 Feliz inicio de semana a todos. Algunos estaréis de vacaciones en alguna playa mientras otros seguimos viviendo el calor de la capital.
¿Qué os parecen las imágenes de hoy? Hace un mes David, un gran fotógrafo, me propuso hacer una sesión y, sin dudarlo, acepté encantada. Ha recibido varios premios fotográficos y se dedica a su pasión, algo que se refleja en las instantáneas tomadas. Me sentí súper cómoda trabajando con él y el resultado no me puede gustar más. Hace tanto fotografía de moda, como retratos, bodas… Si queréis ver el trabajo que realiza podéis hacerlo en su página de Facebook.
Espero que el look también os guste, una gabardina sin mangas que tanto se lleva esta temporada y seguro que repetiré una y otra vez, mi bolso de Mariamare que ya os había enseñado y mis sandalias de serpiente, logrando un conjunto en tonos tierra. El miércoles nos vemos por aquí con nuevo look. ¡Pasad un buen día!
Happy Monday! The weather in Madrid is really hot, I hope to go to the beach in a few days.
What do you think about today´s photos? One month ago, David, a fantastic Spanish photograph asked me to do a photo shoot and I had not doubt and I said yes. He has won a lot of photograph awards and now he works in his passion, as you can see here. If you want to see more pictures check his Facebook page.
I hope you like the outfit, a sleeveless gabardine and my new Mariamare clutch. Have a wonderful day!!
Total look: Zara
Sandalias / Sandals: Mango outlet
Bolso / Clutch: Mariamare