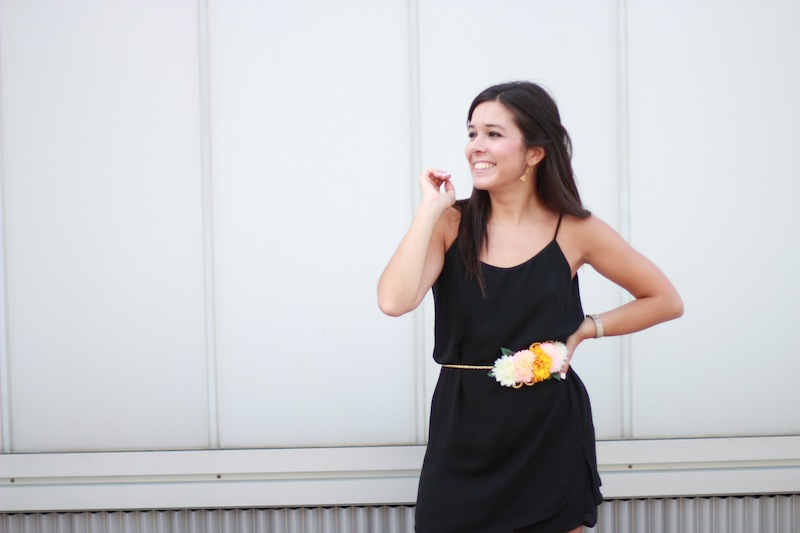 Feliz miércoles a todos.
¿A quién no le gustan que le regalen flores? Y si las juntamos en un accesorio de moda creando este cinturón tan bonito el resultado no podría ser mejor. Ya os he hablado y enseñado productos de Como el Aire en tu Cintura, una marca de complementos personalizados, cinturones, bolsos y tocados ideales para bodas, bautizos, comuniones y todo tipo de eventos especiales. Este cinturón  en tonos rosa, crudo y amarillo de flores secas añade el toque perfecto a cualquier invitada y lo podéis conseguir online en su página web. Las creaciones de esta marca de Béjar son artesanales y cargadas de buen gusto y elegancia. Estoy segura de que me lo voy a poner muchísimo, es ideal y atemporal. El toque dorado de la cuerda no me puede gustar más. ¿Y a vosotros?
El vestido negro es un básico que todas tenemos en el armario y al que podríamos recurrir en nuestro día a día consiguiendo looks diferentes en función de los complementos. Como toque final no podían faltar los pendientes de mi amiga de Crème, marca de joyería creada a mano en Valencia, idea que surgió entre Londres y París.
Un beso enorme y que tengáis un buen día.
Happy Wednesday!
Who would not want to receive a bouquet of flowers? If you love fashion, probably you would prefer a flower sash belt and I´m sure you will love which I´m wearing. I have told you about Como el Aire en tu Cintura and I have shown you their products, they make fantastic and handmade belts, clutches and headdress and they are perfect if you are invited to a wedding or special event. It has been made in Spain, in my mother´s city, Béjar. I´m sure I will wear this golden, pink, yellow and white belt a lot. Do you like it?
Black dress is a basic which all woman have into their wardrobe and if you change the accessories you can have different looks. 
xxxx and have a fantastic day!
 Sandalias/Sandals: Mango (otra temporada/old). Similar aquí/here
Vestido/Dress: Lefties (otra temporada/old). Similar aquí/here
Clutch: Mango (otra temporada/old). Similar aquí/here
Pendientes/Earrings: Crème
Cinturón/Belt: Como el Aire en tu Cintura