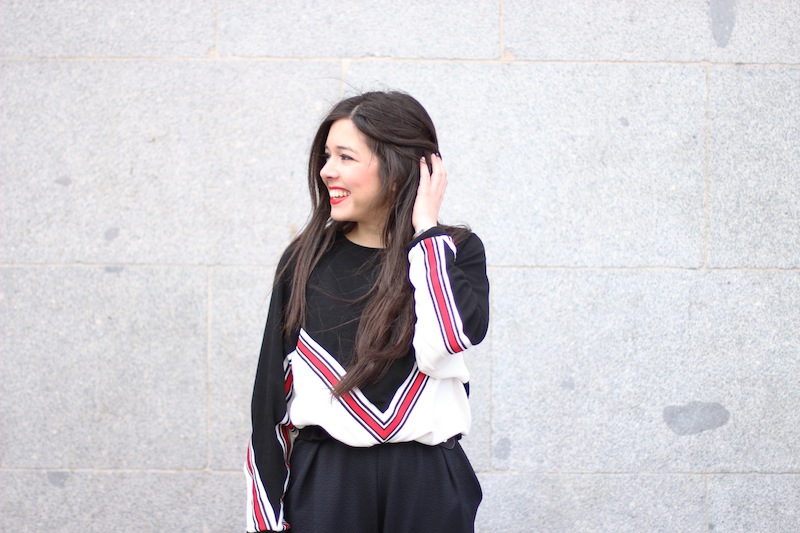 ¡Feliz jueves amigos!
¿Qué tal estáis? Yo genial. En un rato sale mi vuelo a Londres, me voy a pasar unos días a esa mágica ciudad con las amigas que hice cuando viví allí. También veré a algunos de mis mejores amigos que por temas de trabajo viven en la capital de Reino Unido. Si aprovechamos el tiempo en tres días puedo hacer mil planes que podéis seguir en Snapchat (maria-pintado). El domingo vuelvo a estar en Madrid. Tenemos programa de radio y estoy tan contenta con el trabajo que se hace, con los artistas que van y con mis compañeros que aunque pudiese faltar no me lo perdería por nada.
Hoy os quiero enseñar un look que me encanta. Compuesto por prendas básicas con un toque que las hace especiales. Después de haber trabajado en el mundo de la moda y de haber decidido seguir por mi cuenta valoro a los emprendedores muchísimo. Por eso cuando conocí el trabajo que hay detrás de Gloria Herranz Complementos me enamoré completamente de sus bolsos artesanos de cuero y piel. Hechos en España, concretamente en Ubrique, donde se fabrican los bolsos de Loewe a los que estos no tienen nada que envidiar. Últimamente prefiero ir con prendas cómodas, deportivas o zapatos planos y las mochilas me parecen el accesorio perfecto para no restar estilo, sino todo lo contrario, ésta es preciosa y además de calidad, sé que me va a durar mucho tiempo y que la volveréis a ver por aquí. El jersey es de Pull&Bear y me encantó en cuanto lo vi. Me gustan las prendas básicas pero con detalles y este sweater tiene todas las papeletas para convertirse es la nueva prenda favorita de mi armario que me va a salvar de más de un apuro cuando no sepa qué ponerme.
Espero que os guste tanto como a mí y que tengáis un día genial.
Happy Thursday!
How are you? I´m really happy. In a few hours I flew from Madrid to London, I´ll spend some days there, in this magic city with they lovely friends I met when I lived there. I´ll meet some of my friends who live there too. You can follow my travel on Snapchat (maria-pintado). I´ll be in Madrid on Sunday again because I have to work at the radio and I´m so happy in my job and I can´t miss out on this opportunity for anything in the world.
Today I would like to show you a outfit which I love. Basic but special clothes. After having worked in fashion I appreciate to much the work of entrepreneurs. So, when I saw this bag and I knew it has been made in Spain by a fashion designer, Gloria Herranz, I loved it much more! This Pull&Bear sweater u perfect! It´s basic but special and I,m sure I´ll wear it a lot, especially when I won´t know what to wear and I will want to be cool.
I hope you like it so much and have a lovely day!
Mochila/Bag: Gloria Herranz Complementos
Mocasines/Shoes: Uterqüe (otra temporada/old)
Mono/Jumpsuit: Kaif
Jersey/Sweater: Pull&Bear