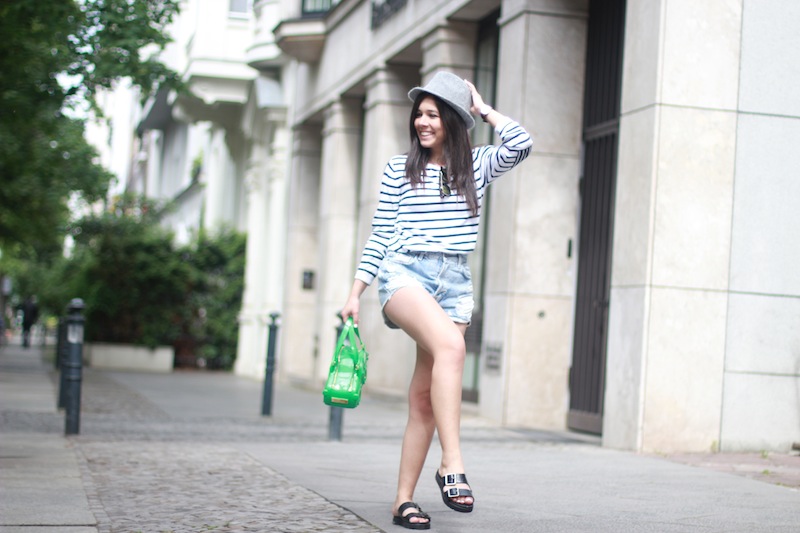 Hoy os traigo otro look que llevé en Berlín. En Instagram (dostaconesparamiarmario) pudisteis verlo al momento y más fotos de mi día a día. También en Snapchat (maria-pintado). Para los que no la conozcáis es una red social a la que subimos imágenes o vídeos que permanecen 24 horas en la misma y después desaparecen. Allí podéis ver los eventos a los que voy, desfiles, mis amigos, mis viajes… en definitiva, mi día a día.
Espero que os guste el look. El jersey me encanta y, aunque estos días en Madrid sólo llevo tirantes y vestidos fresquitos, en Berlín las temperaturas eran más bajas y pude ponérmelo. El sombrero era de mi amiga y las gafas de sol las compré allí. Me encantó la moda en Berlín, la gente vestía súper bien, sobre todo por la zona en la que vive mi amiga, donde hay muchas galerías de arte y tiendas de jóvenes diseñadores, además de marcas consagradas. Fue, sin duda, la parte que más me gustó de la capital para vivir.
¿Qué os parece mi bolso? No puede ser más original. Me llevé mi coche Berlina a Berlín. Esta firma de alta gama italiana tiene bolsos preciosos además de billeteras, accesorios y alguna prenda de ropa. En la web de Braccialini veréis que es verdad lo que os estoy diciendo y seguro que no os dejará indiferentes, a mí el modelo Carinabag me ha conquistado.
Un beso enorme a todos y espero que tengáis un día genial. Muchas gracias por leerme.
How are you? Today I would like to show you the outfit which I wore my last day in Berlin. You could see it on Instagram (dostaconesparamiarmario) and on Snapchat (maria-pintado). It´s a social network where we publish photos and videos and they disappear at 24 hours. I publish the fashion shows I´m invited, my friends, my travels… in summary, my day to day.
I hope you like the outfit. What do you think about my bag? Braccialini is a famous italian brand, high-end bags which I love. It´s like a small car and they sell clothes and accessories too. It will leave no one indifferent. 
xxxxx and thanks for reading!
Shorts: Pull & Bear
Sweater: Asos
Bolso / Bag: Braccialini
Gafas / Sunglasses: Tienda de Berlín / Berlin shop
Reloj / Watch: Daniel Wellington
Sandalias / Sandals: Marypaz