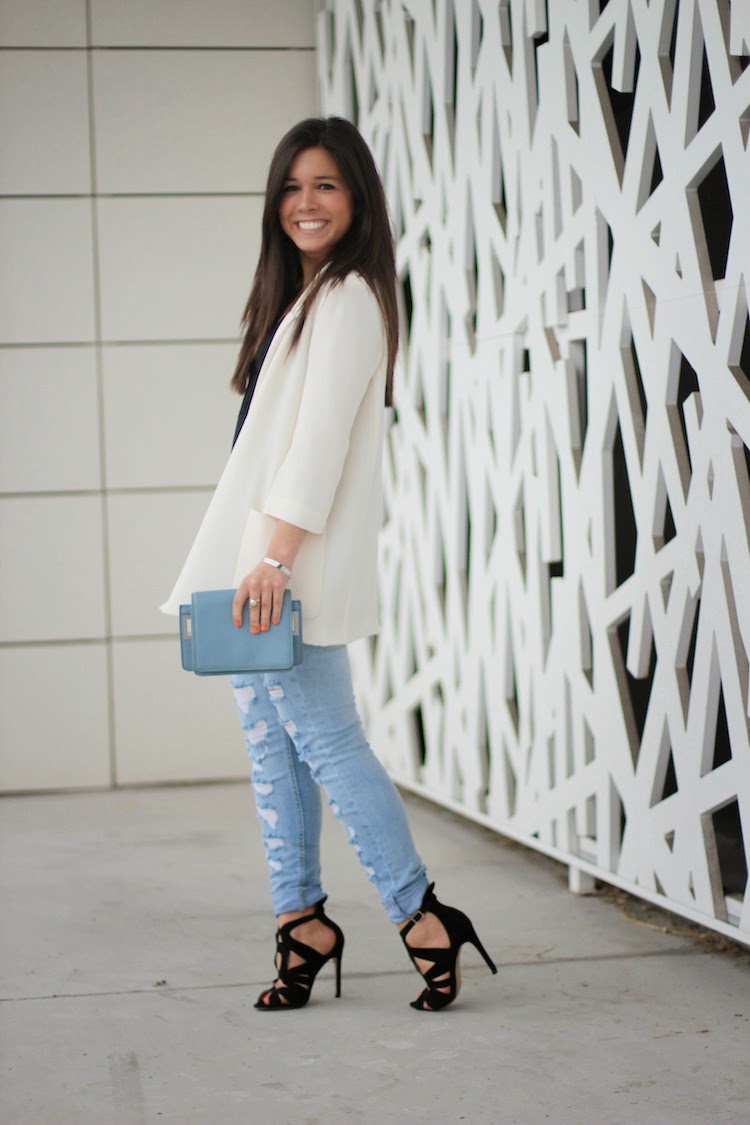 Perdón por estos días ausente. He estado en Zamora viendo a mis amigos de la universidad y el domingo volví a Oviedo.
En las redes sociales comenté que me iba de Madrid, me dio mucha pena porque algunas de las amigas que he hecho este año no volverán. Cuando comenté lo de "Berlín me espera", no es porque me vaya, que iré pero de visita. Es porque mi amiga Nadine, cuando nos despedíamos en el aeropuerto, me regaló la pulsera que llevo puesta con nuestras iniciales grabadas y ese mensaje.
Por ahora estaré unos días en Oviedo y luego ya se irá viendo… espero ir compartiendo todas mis aventuras, viajes… con vosotros.
El look es un básico que no falla. Vaqueros, camiseta negra, chaqueta blanca y sandalias. Los vaqueros de Pull & Bear son, sin ninguna duda, mis preferidos. Sólo los compro ahí, siempre me gusta como me sientan. Tengo de Abercrombie, nos los regalaron cuando trabajaba allí. La diferencia de precio es bastante grande y a mí me siguen gustando más los de Pull… de siempre.
Os dejo con las fotos.
Sorry for missing these days. I've been in Zamora, where I studied Architecture, with my friends and I returned to Oviedo on Sunday. 
In social networks I told I left Madrid, I was sad because some of the friends I've made this year won´t return. When I told "Berlin is waiting for me", is because my friend Nadine, when I said goodbye at the airport, gave me the bracelet I'm wearing with our initials engraved and that message. 
For now I'll be in Oviedo a few days… I hope share all my adventures, travel … with you. 
This look never fails. Jeans, black shirt, white jacket and sandals. Pull & Bear jeans are my favorite, no doubt. I only buy this, I always like the way I feel. I have Abercrombie jeans too, while I was working there. The price difference is quite large and I prefer Pull jeans… ever. 
I hope you like the photos and my look.
Jeans: Pull & Bear
Sandalias: Zara (otra temporada). Parecidas 
aquí.
Chaqueta: Zara
Camiseta: Zara (otra temporada). Parecida 
aquí.
Pulsera: Regalo de una de las mejores personas que he conocido

Bolso: & Other Stories. (Está al 50%)
Sandals: Zara (old). Similar here.
Shirt: Zara (old). Similar here.
Bracelet: Was a present

Clutch: & Other Stories. (50% discount)