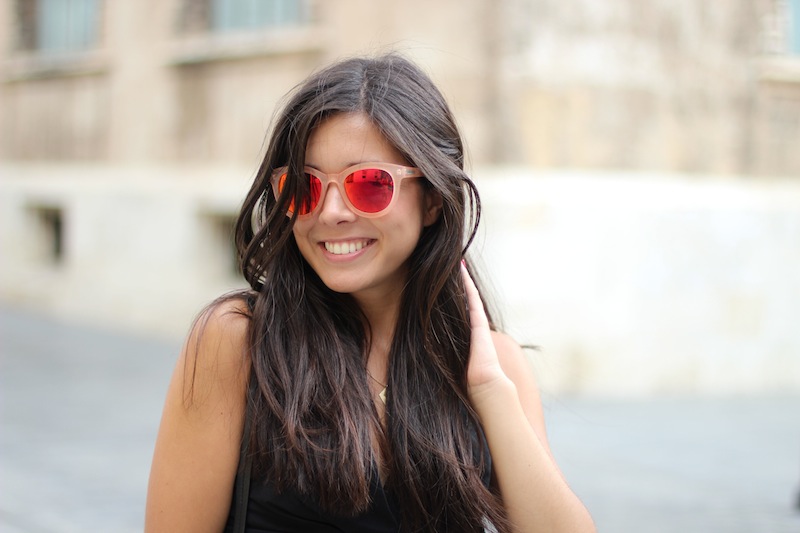 Feliz martes a todos. Los que me leéis y seguís en las redes sociales sabéis que este fin de semana estuve en Valencia con dos de mis mejores amigas que conocí en Londres.
Éste fue el look del primer día, me puse mi nuevo crop top de Zara, me parece precioso el mini volante que tiene y el escote en pico. Las camisetas cortas me gusta llevarlas con pantalones o faldas a la cintura, éste es mi short preferido, muy de los 80, de talle alto y desgastado. El precio fue lo mejor, es barato y le he dado muchísimo uso. Para ir cómoda me puse mis nuevas alpargatas de JustFab. Os las había enseñado varias veces en mi Instagram (2 tacones para mi armario). Me encantan por lo cómodas que son y lo que se parecen a las de Chanel en tonos crudo y negro, son un clon súper bonito y además baratas. Para completar el look me puse los anillos y uno de los colgantes de Crème. Las gafas de sol Ipanema de Visión1 Optical son muy favorecedoras. Os enseñé hace poco otro modelo, tienen súper buena calidad ya que son de una óptica asturiana, Navarro Óptico, que ahora ha comenzado a vender online.
Un beso enorme y qué tengáis buen día.
Happy Wednesday! If you read me and you follow me on social networks, you know this weekend I was in Valencia with some friends who I met when I was living in London.
This was my first day look, I wore my new Zara crop top, which I love, specially the peplum. I prefer wear short tops with hight waist shorts or skirts, this short is my favorite, 80´s style. The price was fantastic! The shoes are wonderful, they look like Chanel and they are really comfortable, you can fin them on JustFab website. You can buy this sunglasses online, the quality is perfect, Vision1 Optical.
xxxx and have a lovely day!
Shorts: Pull&Bear (otra temporada/old). Similar aquí/here
Camiseta/Croptop: Zara
Colgante/Necklace: Crème Jewels
Alpargatas/Shoes: JustFab
Gafas de sol/Sunglasses: Ipanema Vision1 Optical