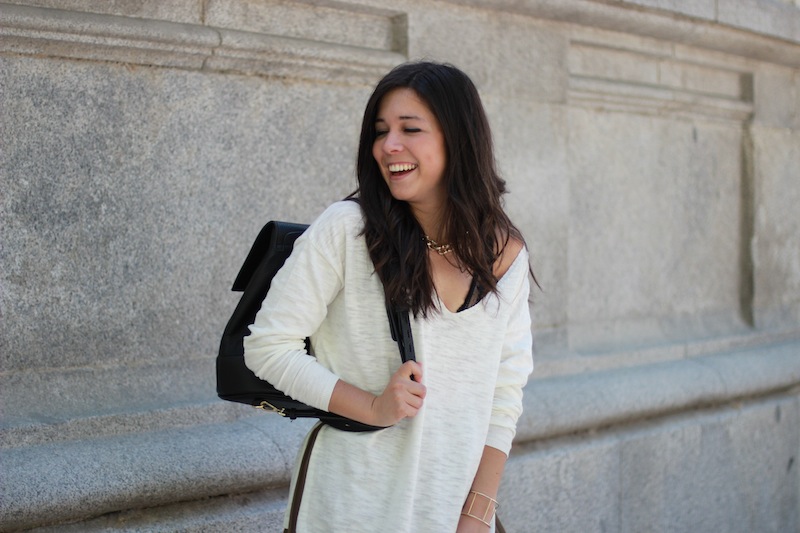 Feliz lunes a todos. ¿Cómo se presenta la semana?
En Madrid hace muchísimo calor pero necesitaba enseñaros este sweater tan bonito de Asos. Me encantó en cuanto lo vi y se ha convertido en uno de los básicos preferidos de mi armario. ¿Os gusta?
Con este tiempo me encanta ir cómoda, así que he abandonado los tacones y los he sustituido por cuñas, plataformas y deportivas. Las que llevo puestas no me pueden gustar más, soy muy fan del dorado. Son de Chika10. ¿No conocéis esta marca? Yo hasta hace unos meses tampoco y me ha conquistado. Visitad la web porque os encantará.
Feliz día y nos volvemos a ver el miércoles por aquí.
Have a wonderful Monday! How has begun your week?
The weather in Madrid is fantastic and I wanted to show you my new Asos sweater. I love it and is one go my favorites basics. Do you like it? I´m sure I´ll wear it a lot.
In summer I prefer comfortable clothes, so I wear sneakers. I love this brand, Chika10. Check their website and you will love it too.
Have a wonderful day and see you on Wednesday!

READ MORE